Registration will make it easier to collect donations, report Wang Yan in Hebei and Shan Juan and Zhang Yuchen in Beijing.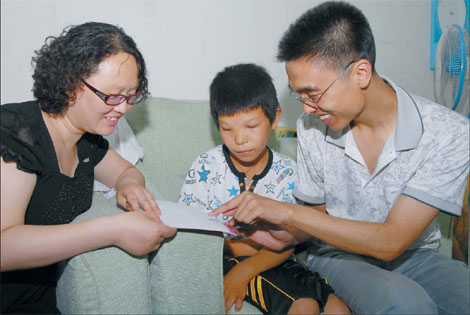 Xu Lina (left) and Duan Fei show 12-year-old Sun Tao how to use simple characters and pictures to communicate. Tao is deaf. Xu and Duan, founders of charity website baoen.cn, took Tao to the hospital in Shijiazhuang, Hebei province, to be evaluated for a hearing aid. [Photo/ China Daily]
The government is set to make it easier for civil societies involved in charitable works to register in a move that will advance China's social development, a senior civil affairs official said.
"China is taking concrete action" to allow charity and social organizations to register with the Ministry of Civil Affairs, Dou Yupei, vice-minister of civil affairs, said.
Many civil societies are currently unregistered and operate outside the law.
Dou announced the move last month during a meeting in Beijing with Michel Sidibe, executive director of UNAIDS, the Joint United Nations Programme on HIV/AIDS.
"We've finished with the regulation amendment work and submitted the new version to the Legislative Affairs Office of the State Council," Dou told China Daily last week.
Under current regulations, a civil society cannot register without a government agency supervising its work.
"Few (agencies) want an attachment to a civil society for fear of potential trouble and the assumed political agenda behind their operation," said Thomas Cai, who heads AIDS Care China, a Guangzhou-based civil organization that provides support to AIDS patients and their families.
Therein lies a problem. Such an unattached organization, called a grassroots charity, cannot legally collect money. And donations are the blood that courses through a charity's caring heart.
'Hope for the best'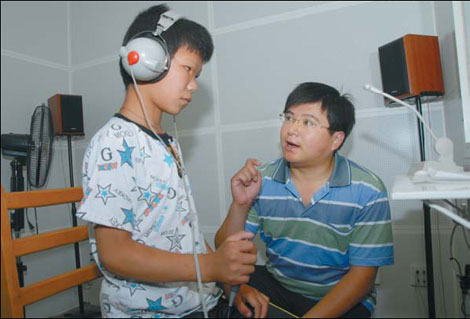 Sun Tao undergoes one of many hearing tests. Teacher Wang Hui, from Gucheng Special Education School in Hebei, accompanied his orphaned pupil through the long day. [Photo / China Daily]
Duan Fei and Xu Lina have been running a website, baoen.cn, for six years. Baoen means "thanksgiving" in Mandarin. The married couple identify the site as "one for the commonweal".
"We collect information about people in need and post it on the website after verification, in the hope of attracting help from the kind-hearted," Duan, 30, said as he sat in the shady, north-facing office of their 11th floor apartment in Shijiazhuang, capital of North China's Hebei province.
On July 5, they welcomed Sun Tao, a 12-year-old from Gucheng county, southwest of Shijiazhuang. The orphan boy suffers from a hearing disorder and language barrier.
After picking up Tao and his companions - his teacher, Wang Hui, from the Gucheng Special Education School, and a local volunteer, Li Yanbo - at the end of their two-hour bus ride, the couple took the group to the First Hospital of Hebei Medical University at about 10 am.
"If things go well, we might be able to help him get a hearing aid," Duan said. That would cost about 10,000 yuan, but several people had shown interest in donating for the boy.
The complex examinations didn't end until around 4 pm, with a disappointing result. Tao has no residual hearing, meaning a hearing aid wouldn't help. The last hope is a cochlear implant, a small electronic device that provides a sense of sound to the profoundly deaf.
Duan and Xu looked helpless. The cost had suddenly jumped to 200,000 yuan ($31,000).
After buying return tickets for Tao and his companions, the couple went back to their office.
"Can you guys still help the boy?" they were asked
"I'm not sure," Xu said.
What she was not sure about was whether that much money could be collected. She already knew that, because the organization is not registered with a civil affairs department and has no legal identity, collecting funds privately could be illegal.
"We have also thought about asking big foundations for help," Duan said. "But they mainly aim at big projects or a group of people with similar problems, rather than individuals, as in Sun Tao's case."
"All we can do now is to post the boy's case online and hope for the best," Xu said.
'Not even 1 fen'
Their website works much like a clearinghouse, where cases of people in need are published online, donors call to express interest in helping one or more of them, and Duan and Xu put both sides in touch. In cases where physical visits are not possible, Duan and Xu help deliver the money or materials.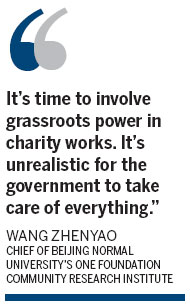 There is one firm rule, said Xu, 29: "We use not even 1 fen of the money."
They use their own money for meals and transport, but their work as freelance website designers isn't steady. Over six years, they accumulated a debt of 100,000 yuan.
At the same time they accumulated a good reputation.
At the end of June, Xu posted a notice that the website would be closed as a result of "longtime operation with borrowings". Many who had dealt with the organization before went online to call for help for this "really selfless" couple.
A few days later, Tian Qiucheng, education director at the Shijiazhuang Computer Vocational College, called and offered financial aid to keep the website running.
"They (the college) also helped us with an office and a place to live," Duan said. "They hired Lina and me as part-time teachers. The salary should cover our living expenses." In early July, the website went back to normal.
How is money used?
The story attracted wide attention, and it brought future charity works. While Duan and Xu were at the hospital with young Sun Tao, a few calls came in to Duan's mobile phone. One was from Liu Zhengwen, 22, in Beijing.
Liu, a designer, said he and friends were willing to offer financial aid to students, but finding those in need was a problem. "We just hope to get information about the kids and visit them directly."
That's not unusual, Duan said. "Donors want to know how their money is used. Some also want to know who they have helped."
"Governmental charities still enjoy dominance, yet as nongovernmental organizations keep expanding, some leading companies started to work with grassroots NGOs," reads the Annual Report on Philanthropy Development.
A foreign corporate social responsibility manager who did not want to be identified told China Daily that the Beijing-based multinational company where the manager works is converting to smaller charitable organizations. Lack of professional management by some large charities is the main reason.
The company cooperated with the Red Cross Society of China on tsunami relief for Japan this year and the Sichuan earthquake of 2008. Fundraising efforts involved cake sales, sponsored runs and staff donations.
"Cleaners were giving 200 yuan when they earn so little, so I have to know that every yuan is being used well, or what do I report to our donors?" the manager said.
"I really like small NGOs with efficient management. Just as in global companies there is huge waste, so in global NGOs. When the team is small and committed, the output is focused and credible."
Charitable programs that "bring two people together for creative philanthropy and mutual benefit" are the most sustainable relationships, the manager said.
"Charity is selfless pursuit. You have to be passionate about the underdog, not in it for the pay. People in the end judge you by what you achieve as a charity, not by who you know. At the start connections are the key, but in the end the general public is the judge."
'It's time'
Now the connections issue seems on the way out.
Dou, the Civil Affairs vice-minister, didn't provide a timetable last week for enactment of a new regulation. "It's still under revision and discussion at the State Council."
But the ministry has been working toward a revision of the registration rules since 2009. Last year, the Beijing government issued trial policies that allow social organizations to register without a government agency's affiliation in certain districts, such as the Zhongguancun area.
In late May, the Geneva-based Global Fund, which supports global disease intervention, suspended grant payments to China for reasons including the government's inadequate efforts to solicit help from civil societies.
Health Minister Chen Zhu, in response, told a conference in Yunnan in June that the ministry would try to help civil societies that work in HIV/AIDS control. He said they "play an indispensable role in reaching sufferers to carry out intervention efforts in a human-oriented approach."
Sidibe, the UNAIDS director, said, "Such organizations in China remain at an early stage of development and need several things if they are to be able to play a more meaningful role in China's HIV response." Those needs, he said, include being "able to register legally and gain access to funding, which would allow them to operate in a sustainable way (and) scale up their services to meet demand."
"It's time to involve grassroots power in charity works," said Wang Zhenyao, chief of Beijing Normal University's One Foundation Community Research Institute. "It's unrealistic for the government to take care of everything."
He Dan contributed to this report.