Wenzhou, Zhejiang - Twenty-one hours after a high-speed train crashed into the back of another that had stopped after losing power near Wenzhou, rescue workers found a 2-year-old girl alive in the last carriage of the stalled train.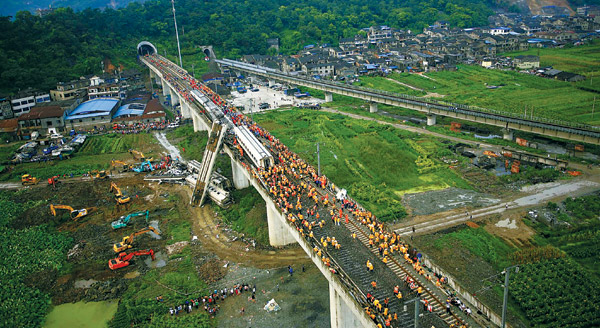 A bird's-eye view of the derailed high-speed trains near Wenzhou, Zhejiang province, at 6:50 am on Sunday, about 10 hours after the fatal collision. Rescue teams were busy searching for survivors. Chen Bin / for China Daily
Xiang Weiyi, from Wenzhou, had suffered no apparent injuries after being trapped in the carriage, rescue workers said. She was not crying when they discovered her about 5:20 pm as they cleared the wreckage on a viaduct.
"When we found her, she could still move her hands," a firefighter said. She was taken to No 118 Hospital of the Chinese People's Liberation Army in Wenzhou, he said.
Weiyi's uncle said she had been traveling with her parents. He did not know if they had survived.
As of 10:30 pm Sunday, the number of confirmed dead stood at 35 people. A further 192 had been injured, said Ministry of Railways spokesman Wang Yongping.
The accident happened at 8:38 pm on Saturday on a bridge in East China's Zhejiang province when a high-speed train, D301, rear-ended a stalled bullet train, D3115.
President Hu Jintao and Premier Wen Jiabao called for "all-out efforts" to rescue injured passengers. Vice-Premier Zhang Dejiang arrived on Sunday at the site to direct rescue efforts and help with the investigation into the accident.
Wang apologized to the injured and their families. He said the ministry would draw lessons from the crash to prevent similar accidents from happening.
A device on the D301 train similar to the "black box" on aircraft was found at 5 am Sunday and is expected to help experts analyze the cause, the ministry said in a news release. Railways Minister Sheng Guangzu promised that the cause of the accident would be made public as soon as possible.
Three railway officials were fired on Sunday: Long Jing, head of the Shanghai Railway Bureau; He Shengli, deputy bureau chief; and Li Jia, head of the bureau's committee of the Communist Party of China. The three will also be subject to investigation, the ministry said.
The ministry canceled 58 high-speed trains on Sunday and ordered that passengers be given full refunds.
Split in two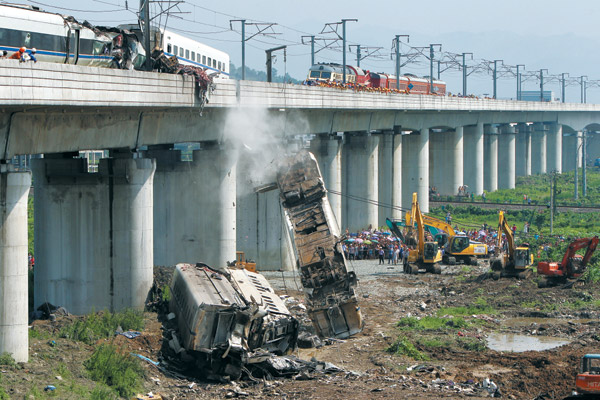 After hours standing on end, a passenger carriage is dislodged from its support on the viaduct and falls toward solid ground. Gao Erqiang / China Daily
Train D3115 was stopped Saturday night - a lightning strike was blamed in the Ministry of Railways' initial report - and after impact, the first four carriages of D301 fell off the bridge. The last two carriages of D3115 were derailed but didn't fall. It's the last one where the toddler was found.
On Sunday, three of the carriages lay on farmland, two of them split into halves. The fourth was vertical, leaning against the viaduct 15 meters overhead.
Hundreds of firefighters and soldiers, along with the cranes, excavators and other heavy machinery, sweated on the muddy ground and on the elevated bridge to bring down the vertical carriage and deal with the other wreckage. Railway officials said the wreckage was cleared and the rail line repaired to prepare the railway to resume operations.
Slow slide down
The wreckage site, less than 100 meters from a community of single-story homes, remained cordoned off.
Many people searched desperately for their loved ones at the scene and at hospitals and a temporary accommodation center. Information about people who had not been reached was broadcast on TV or posted on websites.
Many of the survivors had been evacuated to a nearby school and bus transportation center before they were sent home by bus or other train. They carried with them the memories of a horrible moment.
Liu Hongtao, unharmed although he was riding in the carriage that leaned against the viaduct, said he had to hold onto handrails when the train began to shake. When the carriage turned vertical, he carefully slid down to the ground by holding the rails and crawled out of the wreckage through a huge crack.
Liu Jiwei, who was stranded in the halted train, had to walk with many others more than three kilometers to get off the viaduct. "This night changed my life," he said. "It's my first time to get so close to death."
Among the victims was the driver of train D301, Pan Yiheng. When rescuers dragged Pan's body from the distorted driving compartment, his chest had been pierced through by the brake handle, according to a news release by the Ministry of Railways.
The ministry confirmed that Pan had activated the emergency brake before he died, which prevented a worse outcome. Pan, 38, had driven trains safely for more than 238,000 km over 18 years.
Neighbors pour in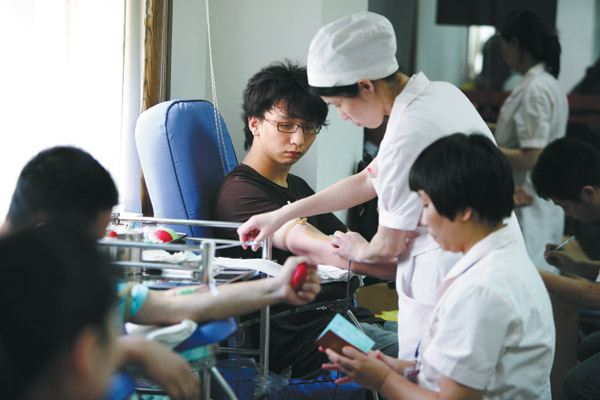 Wenzhou residents rush to the city's blood collection centers to donate their blood for the injured passengers. Gao Erqiang / China Daily 
In an aid to rescue personnel, local residents volunteered in the darkness to help the trapped out of the deformed carriages.
Wu Jiapan, who lives nearby, was one of the first to dash into a wrecked carriage through a crack 1 meter wide. He dragged three women and one man, all injured, to safety.
The first, he said, was a woman in her 30s. "She was the closest to the huge opening and trying to crawl out of the train," he said on Sunday.
With feeble light from his cell phone, Wu discovered the woman and dismantled a broken chair to carry her out, with other helpers.
The woman did not really speak, Wu said. "She could only mutter that she felt pain in the lower back when she was relocated to the ground."
One of the four injured lost consciousness and was bleeding heavily, Wu said. "It is full of noise in the fallen carriages. Many people were pleading for help. I never saw a scene so chaotic with people panicking like this," Tian Yunsui, a witness, said on Sunday.
Those injured were taken to 11 hospitals in Wenzhou, and a number were placed in intensive care units.
All medical staff were in place to take care of those injured in the accident, said Wang Linyue, executive director of Kangning Hospital, which accommodated 54 passengers. Each injured was given a number, to make sure he or she could be given immediate treatment, he said. Many suffered from scrapes or bone fractures.
It was also a bustling scene at the city's blood collection centers, as people waited in lines up to 30 meters long early Sunday morning. They had answered the call for donations for injured passengers who had lost blood and needed transfusions.
New questions
Fresh questions over the safety of China's rapid rail expansion were raised following the accident. It occurred less than a month after the country inaugurated, with great fanfare, a flagship $33 billion line connecting Beijing and Shanghai. The high-speed line halves the rail journey time between China's two most important cities to five hours.
A common question is why the railway system did not notice the D3115 had stopped and inform the D301 train so it could brake in time.
In 2007, the railway authority announced that China had developed an automatic block system that is supposed to guarantee a safe distance between bullet trains on the same line, according to a CCTV report in 2007 before China started operating 200 km/h bullet trains on existing tracks.
Under that system, information about one train's location could be sent first to the on-board computer on the train and then to other trains to prevent rear-end collisions, Chen Jianyi, then a senior engineer with Guangzhou Railway (Group) Corp, said in that report.
But apparently the automatic system failed in Saturday's accident, and so did a backup manual block system, a railway system insider said.
Zhao Jian, a professor at Beijing Jiaotong University, said the derailment would affect passenger levels on the high-speed railways in a short term. He said it might be time for China to review its railway development, including whether it needs so many high-speed trains and how it can ensure safe operations.
Passengers also questioned the sealed windows on the bullet trains, which hampered survivors' efforts to get out of the train. Survivor Liu Hongtao said someone in his carriage attempted to break the window with a fire extinguisher but failed.
Wu Yiyao and Zhang Jianming contributed to this report.