Mogul denies responsibility for scandal, Reuters, China Daily report.
LONDON - The UK parliament committee hearing investigating the phone-hacking scandal was suspended briefly on Tuesday after Rupert Murdoch was attacked.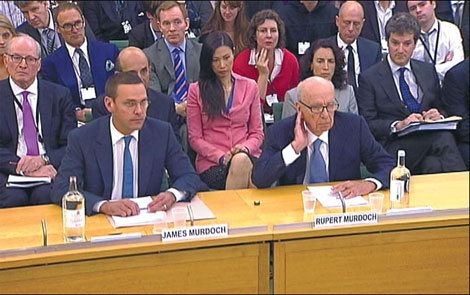 James and Rupert Murdoch appear before a parliamentary committee. Behind them, center, is Rupert Murdoch's wife, Wendi Deng.
A man threw a plate of white shaving foam at Murdoch before being arrested.
Prior to the dramatic incident, Murdoch and his son James apologized to the British parliament for the phone-hacking scandal that has engulfed News Corp, but the veteran media mogul denied he was ultimately responsible for "this fiasco".
Murdoch senior said he had told the truth about the scandal at his now defunct News of the World newspaper but had been misled over the matter, and said he closed the paper because the company was ashamed of what had happened.
"This is the most humble day of my life," he said shortly before the hearing of the Culture, Media and Sport Select Committee of the House of Commons began.
Murdoch, 80, added that he had seen no evidence of hacking around victims of the Sept 11, 2001 attacks on the United States.
The scandal has rocked Britain's establishment right up to UK Prime Minister David Cameron.
With a second British police chief quitting over the scandal on Monday, Cameron cut short a trade trip to Africa and was due to return late on Tuesday to attend an emergency debate on Wednesday in Parliament, which is delaying its summer recess.
The Murdochs' appearance before Parliament's media select committee attracted millions of television viewers keen to follow the latest twist in a saga that has shaken Britons' faith in their police, press and political leaders.
"That's not surprising, as it's the first time Rupert Murdoch has been before a select committee in his 40 years of building up a media empire," said Paul Farrelly, an opposition Labor committee member.
Murdoch's British arm, News International, had long maintained that the practice of intercepting mobile phone voicemails to get stories was the work of a sole "rogue reporter" on the News of the World newspaper.
That defense crumbled in the face of a steady drip-feed of claims by celebrities that they were targeted.
The floodgates opened two weeks ago when a lawyer for the family of a murdered teenage schoolgirl said the paper had hacked her phone when she was missing, deleting messages and raising false hopes she could be still alive. The ensuing outrage prompted News Corp to close the 168-year-old News of the World and drop a $12 billion plan to take full control of pay TV operator BSkyB, and saw the arrest of former News International Chief Executive Rebekah Brooks, a Murdoch protege.
Cameron has faced questions over his judgment in appointing former News of the World editor Andy Coulson as his communications chief, while London police chief Paul Stephenson and anti-terrorism head John Yates stepped down within 24 hours of each other over their links to a former deputy editor of the newspaper.
Survival at stake
Former Murdoch editor Bruce Guthrie, who worked for the company in Melbourne, said Murdoch faced a fundamental decision on the fate of the company he has built from an Australian newspaper business into a global media giant.
"What it boils down to it this: What is more important for Rupert - the survival of the company or the survival of the family's control of the company?" he said.
"If he really is bent on saying, 'I want this company remaining in the control of my family,' which would be James, I reckon he has to take a bullet for James."
A News Corp board member said the group's independent directors were fully behind Rupert Murdoch, 80. There has been talk in recent days that Chase Carey would be elevated from chief operating officer to take over from Murdoch as CEO, with Murdoch staying as chairman.
On Monday, Standard & Poor's said it might cut News Corp's credit rating from the current BBB+. It put the group's ratings on credit watch with negative implications, given the business and reputational risks associated with widening legal probes in Britain and pressure for an FBI investigation in the United States.
'No circus'
The parliamentary committee has been pursuing the phone-hacking allegations for more than four years, saying in a report in 2010 that it was inconceivable that managers did not know about the practice.
"We intend to be calm and forensic. There will be no circus, no playing to the gallery because we really need to get to the bottom of everything that has gone on," said Farrelly, a former journalist.
In another development, police said a man believed to be former News of the World journalist Sean Hoare was found dead at his home near London on Monday. A post-mortem was to take place on Tuesday.
It was Hoare who told The New York Times that phone hacking at the tabloid was far more extensive than the paper had acknowledged at the time. The former show business reporter also told the BBC he was asked by Coulson, who went on to work for the prime minister, to tap phones.