Landslides play havoc with traffic on major national highway, Hu Yongqi reports from Wenchuan, Sichuan.
Luo Honglei can barely wait for Thursday. He will then be able to start his tractor-trailer, which has been parked in Wenchuan since July 3, and continue a delivery trip that usually takes just three days.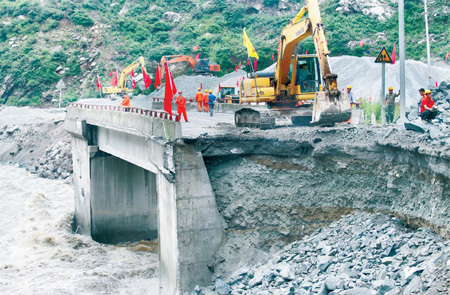 Workers are busy repairing the Luoquanwan Bridge in Shapingguan village in Wenchuan county, Sichuan province. The bridge was damaged by a mudslide early this month and is expected to reopen on Thursday. Photos by Feng Yongbin / China Daily
About 330 millimeters of rain fell on July 3, undermining sections of National Highway 213. During the night, 600 meters of road were either buried under rock and mud, or washed away.
It is the fifth time that landslides, triggered by heavy rain, have blocked the pivotal highway since May 12, 2008, when a devastating earthquake struck Wenchuan, in Sichuan province.
The integrity of the ground hasn't been the same since, experts say. Highway engineers struggle to restore the damaged highway after each landslide and try to prevent new ones. The work is expensive.
For road users, huge landslides are inconvenient, at the very least. They keep people like Luo from making deliveries on time.
National Highway 213 runs between Lanzhou, in Gansu province, and Mohan in Yunnan. Locally, it is the only major route between Wenchuan and Chengdu, Sichuan's capital. Rescue workers after the 2008 quake referred to a 59 km stretch of the road, from Wenchuan's Yingxiu township to its county seat, as a lifeline.
That's the route trucker Luo chose to deliver a 5-ton power transformer worth 1 million yuan ($153,900) from Chongqing to Lanzhou. He got no farther than Luoquanwan Bridge in Wenchuan's Shapingguan village.
"Because the process to reopen the highway was very difficult and slow, we wait for at least 18 days," Luo said. Detouring through neighboring Shaanxi province would have added 2,000 km to the trip, and the buyer refused to pay the additional cost.
So Luo and fellow driver Huang Ming have been sleeping in the cab of the truck, and a local family has provided them food for 20 yuan a day. But by the fifth day, both had already lost 4 kg.
A new phenomenon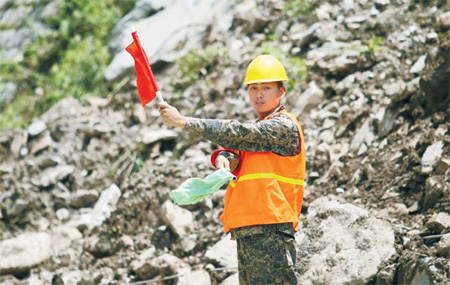 It has taken more than 700 workers and 300 machines to reach this point in the repairs.
Eleven townships in Wenchuan are affected by landslides that close Highway 213, said Zhu Rui, deputy county chief. Local people said they fear being swept away.
Four major slides occurred in July 2009 and in May, June and August 2010, and there were at least seven small slides in a 20-km stretch from Yingxiu township to Shapingguan village.
Ma Fuxiang, a highway maintenance worker in Yingxiu for more than 20 years, said there were "absolutely" no big landslides before 2008.
Hu Xiewen, a civil engineering professor at Southwest Jiaotong University in Chengdu, said there were only minor slides, and those are easy to clean up.
"When it rains heavily, we start to worry," Ma said as he cleared debris in the Mozigou section. "Sometimes, landslides suddenly fall from the mountainside and block the highway. My wife always asks me to be careful, but my job is to help the road management department keep the traffic uninterrupted."
On July 1, landslides blocked several sections of road, but emergency repairs by Sichuan Road & Bridge Co and county road workers had traffic flowing the next day.
On July 3, the Minjiang River changed course and cut through the highway, washing away 600 meters of road north of Luoquanwan Bridge.
If cars and trucks couldn't travel through the area, that left boats and feet.