Project serves as springboard to enter European market, reports Zhang Haizhou in Ankara.
It was noontime and the temperature was more than 30 C on this typical summer day in Pamukova, in mountainous west Turkey.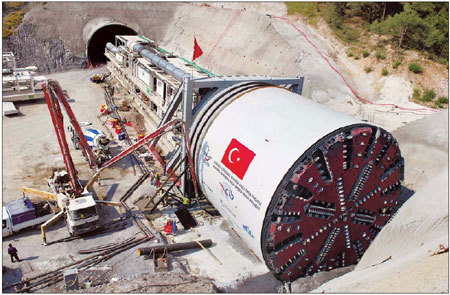 A tunnel-boring machine is crucial in building a high-speed railroad in Turkey. The current phase covers 158 km, and just over one-third of the track must travel through tunnels. The longest is 6.1 km. Zhang Haizhou / China Daily
When everyone else was having a lunch break indoors, chief engineer Wu Jiuyi was standing in the sun, staring at steel tracks piled and glinting on the muddy land, 160 kilometers southeast of Istanbul.
"We have everything ready," he said as he scratched his forehead. "If the Turks can hand over the finished groundwork we can lay the tracks quickly and do the other work to wrap up this project."
The project is a 158-km high-speed railway (HSR) between Inonu and Kosekoy, Phase 2 of a prospective 533-km Ankara-Istanbul line.
Expected running speed on the new line will be 250 km/h.
As high-speed rail develops rapidly in China, the country is working hard to sell its technology and products to Europe.
News reports have mentioned China's ambitions to have its high-speed rail operating in European countries, including the United Kingdom, Bulgaria and Hungary.
But the project Wu and his colleagues, from the China Civil Engineering Construction Corp, are building in Turkey remains the only Chinese HSR project in Europe.
(Turkey's economy is counted as European, and ranked sixth, as the country seeks membership in the European Union. Geographically, about 97 percent of Turkey lies in Asia and the 3 percent in the extreme northwest in Europe.)
Construction began in October 2008, and plans call for the line to open by December 2013.
"We now have 35,000 tons of steel track, bought from Italy, ready for the project. All other equipment is almost ready, too," said Wu, who's the chief engineer in charge of laying all the tracks.
On Monday, the first batch of equipment from China was unloaded at Istanbul's Haydarpasa port. It included two 117-ton freight locomotives and a special ballast-roller.
Two Turkish companies, in partnership with China Civil Engineering, are doing the groundwork. In mountainous Turkey, Wu and his colleagues have frankly expressed their concern that the work may be delayed.
The terrain poses the biggest difficulty, said Zheng Jianbing, senior engineer and assistant president of China Civil Engineering. "Phase 2 is the most difficult part of the Ankara-Istanbul HSR."
Although the project is just 158 km long, 55 km of it involves tunnels and 10 km is bridges. The longest tunnel is 6.1 km, the longest bridge 1.96 km. The highest part of the project is more than 800 meters above sea level, the lowest about 20 meters.
"More surveys than expected need to be done during the course of the construction due to the difficult terrain. The influence on the progress is quite big," Zheng said.
Springboard to Europe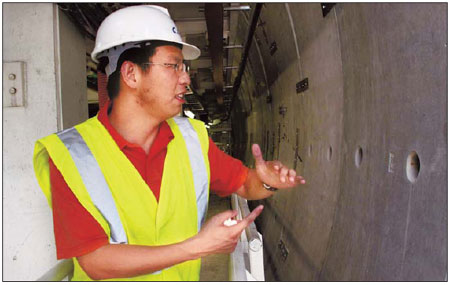 Ge Meng, an engineer, is one of about 40 Chinese working on this project. Zhang Haizhou / China Daily
Despite those challenges, Zheng said the 158-km project is very significant for the company and the development of Chinese high-speed rail overseas. "We consider it a springboard to enter the European market."
And it will produce "zero" financial profit for his company, he said.
But Zheng, who has spent more than a decade building railways abroad, also said China should take a measured pace in trying to push its technology into the European market.
Take Bulgaria, for example. Alexander Tsvetkov, then Bulgaria's minister of transport, announced in early November that Sofia had been invited to join the project for high-speed rail from China through Turkey and Bulgaria to central and western Europe.
Zheng admitted his company hopes to extend its business to Bulgaria, but he said it's still too early for a concrete plan or project.
"I think it's better to be slow," he said. "It's a fresh market, and there are many rules in the European market. Like in Turkey, I still cannot say I understand everything, though we began here in 2004."
Some European high-speed rails have noticed China's designs on the European market. "China is about to rise to a true global competitor," said Alexander Machowetz, a spokesman for Siemens Industry Sector in Germany.
Machowetz said Siemens "acknowledges the ambitious goals of the Chinese manufacturers in the international markets", but he also said his company has been "very successful" as a supplier of high-speed rail technology in the Chinese market over the past few years.
"International competition and cooperation in project-based partnerships" are common in railway projects, he said, but "Siemens has proven its ability to cope with competition of any kind".