A murky trade thrives as quotas tightened, reports He Na in Beijing.
Beijing's efforts to strictly curb population growth have boosted the black market trade in hukou, permanent residency permits.
Though illegal, there is a thriving market. The municipality's reduction of the number of permits granted to non-locals - one-third less than the roughly 10,000 issued to college graduates last year - has led to a price surge.
Advertisements and information about hukou vendors can be found on almost every search engine and on university Internet bulletin boards in Beijing.
Most claim that they can help new graduates get a Beijing hukou for 150,000 to 300,000 yuan ($23,200 to $46,400). Some posts even offer deals to people of any age and educational background.
"Hukou, especially Beijing hukou, are scarce and the government has a very strict access system," said Yuan Xin, a professor at Tianjin-based Nankai University's Population and Development Institute. "People who consider taking a chance and buying one need to be alert to fraud."
"There are only three quotas left. People who need it have to hurry up. Each for 180,000 yuan. People who want a discount please do not call," reads a notice on search engine Baidu's posting forum.
Related readings:


 Who wants that hukou anyway?


 Capital considers easing hukou rules


 Beijing considers easing hukou rules


 Beijing may offer hukou to elite immigrants

Pretending to buy
hukou
for a younger brother, a China Daily reporter telephoned a
hukou
vendor who promised to help her obtain
hukou
in Hujialou, Chaoyang district, Beijing. The man, who gave only a surname, Zhang, asked for 180,000 yuan.
"It's not the first time I sell hukou quota," he said. "As long as you follow my instruction, I guarantee you can get a real Beijing hukou within two months. The hukou will affiliate to State-owned companies under the National Development and Reform Commission and China Council for Promotion of International Trade."
When the reporter asked for lower price, the man refused. "Do not think 180,000 yuan is a lot. Comparing it with how you will benefit from the hukou in the future, you will know it's worth paying.
"The quotas for Beijing hukou are greatly reduced year by year," Zhang said. "To tell the truth, if you do not have guanxi (a relationship) in government bodies or the public security bureau, even if you have money, you cannot get hukou either."
A golden ticket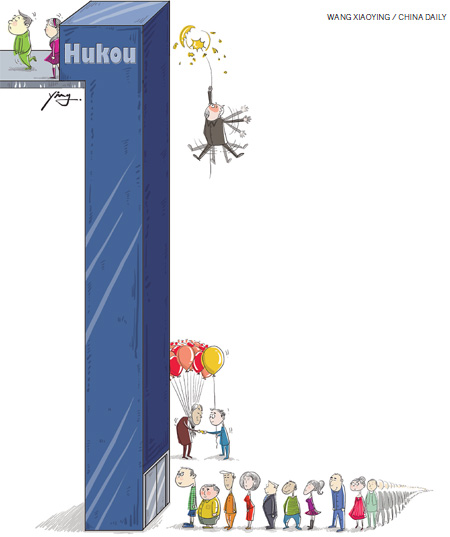 The Beijing hukou is one of the most coveted in China because, to many people, it symbolizes access to a bounty of resources and chances in the capital. It is also the hardest to get.
In Beijing, people without hukou are not allowed to buy homes or register cars unless they have paid income tax in the city for five consecutive years. Affordable housing that is subsidized by the government and children's public schooling - from kindergarten to gaokao, the national college entrance exam - are also off-limits.
"I took a taxi, and asked the driver where he is from," said Wang Qiang, a Henan province native in Beijing. "And the driver replied that all the taxi drivers in Beijing are Beijing natives. Without a Beijing hukou, I not only can't register a car, but can't even drive for others."
Wang, a new graduate of the University of International Business and Economics, has not found a job he wants that also offers Beijing hukou.
Study focus matters
"I am working in a human resources company affiliated to China Council for Promotion of International Trade," Zhang the vendor said. "In a bid to guarantee that I won't lose my job and make sure I can make deals in the future, I also need to select customers."
His customers must be new graduates from any of national key universities. Science majors are preferred. Art majors need to pay at least 20,000 yuan more, Zhang said.
"I can't lower the price, for I get less than 10,000 yuan for each deal. The majority goes into the pockets of leaders and human resources department staffs of the hukou affiliate companies. It's leaders that set the price, not me. I am just a little fellow."
It might be a "poor me" sales pitch, but other vendors said the same thing.
Bosses involved
Compared with Zhang, a vendor who posted on Tsinghua University's Internet bulletin board sounded more powerful: "No matter what your major is, as long as you are a new graduate, I will guarantee a Beijing hukou for you."
"If you met the requirements to get a Beijing hukou yourself, you wouldn't call me," he said on the phone. "The price, 180,000 yuan, is just an average price this year. And I know someone paid 300,000 yuan for a hukou in Chaoyang district.
"Yes, last year I made some deals at prices between 100,000 and 150,000 yuan, but it's past tense already. Look at the increasing rate of property prices in the capital. Do you still think I ask for too much?
"I just helped a piano major get a hukou," he said. "You can tell how strong our relationship network is."
Sensing the reporter's hesitation and in a bid to ease her mind, the vendor said he works for a human resources company in Xicheng district. Selling hukou quota is based on his superiors' willingness to bring more money into the company.
"You can pay after you get the hukou," he said. "You won't need to worry about anything."
Several netizens who followed this vendor's posts - whether his beneficiaries or his shills - said what the man promised was true and that they had obtained real Beijing hukou with his help. Still other posters said he's a swindler, and they reminded people to be wary.
'They are all frauds'
Zhang Ziming was cheated out of 25,000 yuan recently by a hukou vendor.
His son is a new college graduate and he found a job with an information technology company in Zhongguancun, but the company cannot offer Beijing hukou.
"If my son wants to settle down, a Beijing hukou is very necessary," Zhang said. He contacted several hukou vendors and finally focused on one called "hukou99" online.
"I bargained with him and finally got a deal at 160,000 yuan. I handed in all the materials he needed. He asked for 15,000 yuan as a down payment for fear that I would change my mind and he would waste a quota. Then another 10,000 yuan as social insurance for my son," Zhang said
Zhang refused to pay, but the vendor said it's standard practice in the industry. Zhang paid.
"He asked me to wait for a month, but when I called after a week, the phone was powered off, and now it has become a dead number. Buying hukou is illegal. How could I report it to the police?
"Do not trust those hukou vendors. They are all frauds."