For three generations, Wang Bingzhong's family has lived by fishing the Bohai Sea. The family business is now on the brink of being submerged: A fleet of unlicensed vessels attacked and sank his boat two months ago.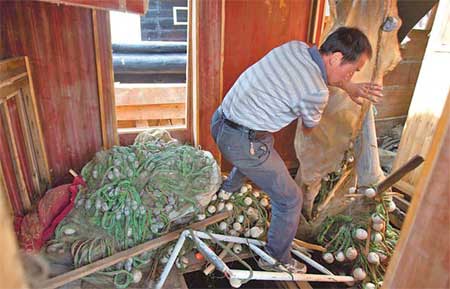 Fisherman Wang Bingzhong from Changli county, Hebei province, examines his boat on May 25 after it was damaged in what he described as a pirate attack. [Zhang Tao / China Daily]
While others worked to harvest as much as possible before Wednesday, the start of a three-month moratorium on fishing, Wang could only watch in port as they unloaded box after box of their catch. "I should have been one of them," he said while lighting a cigarette.
"What can I say? They are nothing but pirates who want to kick me out of their territory," said Wang, 46. "Fishermen are getting more and more desperate and turning to violence these days."
Supplies of fish and seafood have diminished in shallow coastal waters around China over the past decade, and fishermen have found it increasingly difficult to earn a living. But what really scares them are the gangs that attack other boats and keep the rich fishing areas to themselves.
On March 28, Wang went out with eight other fishermen looking for shrimp in the Bohai Sea off North China's Hebei province. As on any other day, they sailed to the open sea off Qinhuangdao city, searching for a suitable fishing area.
But that day, the boat, Jichangyu No 5056, became the target of a group of red-eyed fishermen who wanted nothing but dominance over territory.
"We saw seven big boats approaching us when we were just about to pull out the net," Wang said, still sounding a bit overwhelmed by the fear. "Before we were even able to react, one of them, a 600-horsepower boat, dashed toward us from behind."
Another boat immediately followed suit, but from the right side. In a flash, Wang found his 22-meter, 280-horsepower wooden boat listing and sinking in the surging seas.
"These people were pushing our boat and throwing bricks at us. Everyone was in the water within seconds," he said.
Searching, counting
Wang was stuck inside the captain's cabin as the boat went down. Water pressure held the door shut. Holding his breath, Wang pushed and kicked open the cabin window and finally swam about five meters to the surface.
Wang's 21-year-old son, who has fished with his father since quitting primary school almost 10 years ago, emerged afterward from where he had been trapped.
Three, four, five, five, five. . . . Wang counted his sailors in water that was still ice-cold, the men clinging tightly to the edges of the boat.
Only five survived. Two fishermen were found dead after the wrecked boat was salvaged a few days later. The other two are still missing. "I don't think they had a chance to survive," Wang said, sighing.
The port side (left) of Wang's boat was completely smashed, the starboard side partially damaged. The mast used by lookouts was twisted and there was a big hole on the deck.
According to the Hebei Coast Guard, it was the most violent crime on the Bohai Sea in recent years.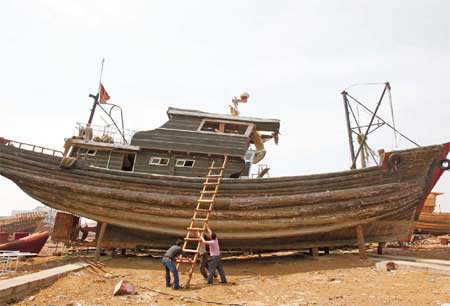 Wang Bingzhong's boat, Jichangyu No 5056, was seriously damaged - mostly on the distant side - by a gang claiming fishing territory in Bohai Sea. It needs repair, but Wang says, 'I am not going to use it anymore.' [Zhang Tao / China Daily]
Fish down, fights up
"We've noticed an obvious increasing number of disputes or even mass incidents over fishing territory in the past few years," said Pan Xinshan, vice-director of Qinhuangdao's Bureau of Agriculture, which administers the area's fishery industry. Shrinking catches have led "some local villagers, who live on nothing but fishing, to secure relatively resource-rich areas by all means, including violence sometimes", Pan said.
In 2010, US-based National Geographic magazine said in a research paper that China consumes more seafood than any other country - as much as 694 million tons every year, ahead of Japan and the US. The overfishing that results from such an appetite, plus industrial contamination of seawater, led to a rapid decrease in China's fishing resources starting in 2001.
According to the Shandong Provincial Oceanic and Fishery Department, fishermen could find more than 63 types of fish in the Bohai Sea 20 years ago. Last year, there were fewer than 30.
The situation threatens millions of Chinese fishermen who live on nothing else.
During the first half of 2010, more than 20 major disputes were reported between fishermen in Hebei province, leaving three dead and one missing. Eleven such cases involved more than 100 people.
One fight over territory last year involved more than 260 fishermen and 48 boats from Hebei and neighboring Liaoning province, Pan said. It was the biggest fight on the water, and one person died and another is missing. The case is being tried in Qinhuangdao courts.
"Despite government's effort to protect marine resources from being overconsumed, fishing areas are getting smaller and smaller in Bohai Sea," Pan said. "Many fishermen complain that they cannot catch anything. The problem is sengduo zhoushao (too many monks, too little porridge)."
Authorities have been trying to reduce the number of licensed fishing boats by persuading fishermen to find other ways of living, such as farming or starting their own businesses. Training or other incentives are offered.
China had about 238,000 fishing boats in 2002 and 208,000 last year. The goal for 2015 is just over 200,000 boats, according to the Fishing Management Department under the Ministry of Agriculture.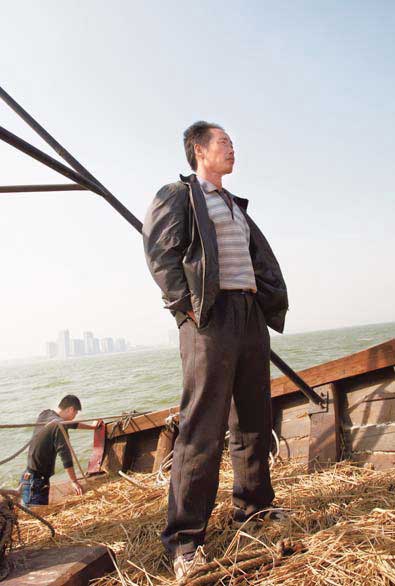 Wang Bingzhong takes in the sea air he loves from a friend's fishing boat. Catches have shrunk in the past 10 years and violence by desperate fisherman has increased. 'I am quitting fishing completely,' Wang says. [Zhang Tao / China Daily]
'Like gangsters'
After Wang's terrible encounter on the sea, Hebei Coast Guard and the Hebei Fishing Management Department responded to a tip from other fishermen and confiscated seven boats suspected in the attack.
More than 30 people were arrested, Wang told China Daily. "But the police released some 20 of them in a few days. Now they told me 11 people are still detained."
Wang said authorities told him that two masterminds behind the attack are still at large, along with three accomplices on the boats. They are now on the wanted list.
The accused are all from Gouquzhai village which, like Wang's home of Zhazili village, is in Changli county, Qinhuangdao city. Wang charged, and authorities agreed, that they are unlicensed fishermen who go out in groups on unlicensed boats. "They are like gangsters, raiding about at sea kicking everyone else out of their domain," Wang said.
He said the "gang fleet" from Gouquzhai is probably the biggest local bully. "Some of us just back off when they come close. There are collisions from time to time, but none was as serious" as the attack on his boat.
'We are so scared'
The boat cost Wang some 600,000 yuan ($92,600) and he still owes 500,000 yuan. Adding up the fishing tools and nets that were damaged in the attack, Wang said he lost almost 1 million yuan. He feels lucky to be alive but is frustrated by an uncertain future.
"I'm using all my savings to pay the debt. Now I have no money left even to paint the walls in my house!" he said. "Every day in these two months, I have gone around contacting government people to tell me what to do. The families of the dead and the missing fishermen also keep pestering me for a solution.
"When the wanted people are arrested, we will go to court, which will last at least six months," Wang said. "The boat is damaged and I am not going to use it anymore. I am quitting fishing completely; so is my son. We are so scared. But what's next?"
Wang's boat now rests at the Qinghai Boat Factory near his village, unattended. Occasionally he climbs up into the boat, examining the wreckage.
The skinny man started fishing when he was 19. He loved to take a bottle of Chinese white spirit on his boat, relishing the alcohol in the ocean winds while waiting for fish to come to the net. No more.
Divided enforcement
Some experts say that fishing-related authorities hold some culpability in Wang's case and others because of their fragmented responsibilities and different masters.
Five government bodies have power over maritime security:
China Coast Guard is the only maritime armed force that responds to all kinds of maritime crimes.
The Fishing Management Department, under the Ministry of Agriculture, deals only with minor conflicts between fishermen at sea that involve no crimes.
China Ocean Environment Inspection Fleet is the responding agency for illegal fishing or drilling at sea.
The Maritime Safety Administration and China Customs primarily are responsible for import and export matters.
"Those departments cannot control each other and seriously lack coordination, so sometimes they duck responsibility and blame the others," said Wang Xiufen, a professor with the Law School of Dalian Maritime University. "In countries like Japan, South Korea and the US, there is only one maritime enforcement department."
Gu Lixin, director of Hebei Coast Guard, has also noticed the problem. "Our power should be integrated so we could enforce maritime issues more effectively.
"Often, fishermen have called us and said it was a life-threatening emergency, but when we got to the scene we found that they were just having a dispute because their fishing nets were tangled," Gu said. "It is the responsibility of Fishing Management Department, so we cannot do anything but call them to deal with it. It is really a waste of resources."
Wang Xiufen said an integrated administrative force on the sea could also help China deal with maritime disputes with other countries.