Rescuing children kidnapped from the Xinjiang Uygur autonomous region and forced into a life of crime in cities across the country has become a national priority.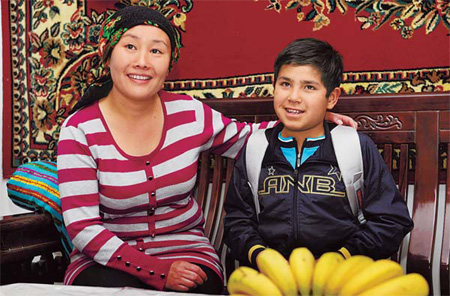 Akbar Yusup, 10, is made to feel at home at the Urumqi SOS Children's Village on May 2 where Shiedat (left), a teacher, looks after him. He was the first Xinjiang child to be returned home by the government after a campaign was launched to rescue children from criminal gangs. Zhang Wande / for China Daily
The children often roam in gangs and face exploitation and severe punishment from their so-called minders.
Their presence on the streets of big cities across the country has been a major problem for the authorities.
"When I think of Xinjiang, the first thing I think of are the delicious lamb kebabs. But what worries me the most is the vagrant Xinjiang children," said Xu Weilun, 26, a lawyer from Xi'an, capital of Shaanxi province.
There are many of these children in Xi'an, he said, and they are often found lifting wallets or mobile phones.
Xu and two of his friends have fallen victims to such thefts.
"I was walking on an overpass once and a group of six Xinjiang children, all aged about 10, suddenly started to run toward me. When they were gone my wallet that I kept in my jeans pocket had been stolen," Xu said.
That kind of view saddens Kurax Mahsut, vice-chairman of the region. "I just cannot believe Xinjiang is like that in people's minds," he said.
Most of the children were cheated and kidnapped from their homes, taken by criminal gangs to other cities and forced to beg or steal for them, Kurax said. They are victims themselves.
Zhang Chunxian, who was appointed Party chief of the region a year ago, promised in April to take every Xinjiang vagrant child back home. The Public Security and Civil Affairs ministries vowed they would spare no effort in saving children from Xinjiang who had been abducted and forced to beg or commit crimes in other cities.
Thousands of children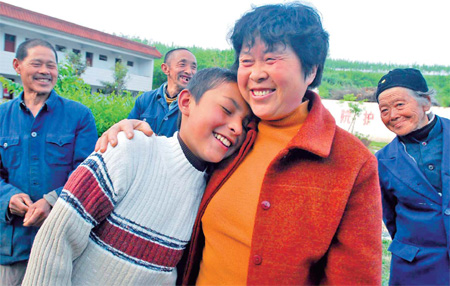 Alim, 13, hugs a staff member of the civil affairs bureau of Nanzhang county, Hubei province, before boarding a train back to Urumqi, capital of Xinjiang Uygur autonomous region. The boy had wandered around Hubei for about four months before this trip home in 2006. Provided to China Daily
Xinjiang children are not the only children in that predicament, but Xu described them as easily recognizable because of their distinct facial structure that makes them stand out in a crowd.
According to the latest figures from the Ministry of Civil Affairs, relief centers nationwide provided aid to vagrant children more than 815,000 times from 2004 to 2009. (Some children received help from more than one center.) Only about 150,000 children are helped every year, the ministry said, and the actual number of homeless children on the streets is far greater than that.
But it is children from Henan and Sichuan provinces who rank highest among vagrant children in China by place of origin. Children from Xinjiang ranked 10th.
Even so, the number of homeless children who originated in Xinjiang has risen sharply in the past decade and the children have been turning up much farther from home, said Turenjan, a sociologist from the Xinjiang Academy of Social Sciences. (He has one name only.)
By comparing his studies on abducted children in 2000 with his work in 2011, he found that children from Xinjiang, who most often showed up in Beijing, Shanghai and other big cities 10 years ago, are now seen in small or medium-sized cities.
He said most of them had been forced into criminal activities. They are primarily from underdeveloped areas in southern Xinjiang, including Hotan, Aksu and Kashgar, where child trafficking is rampant.
When these children are caught stealing in the city, there is little police can do. Many are too young to provide detailed addresses or contact information and many do not speak or understand Mandarin Chinese.
"Those Xinjiang young offenders really give us headaches," said Liu Wenzhi, a police officer in Jinan, East China's Shandong province. "We don't speak Uygur so we have difficulties communicating with them and getting their IDs."
Changing the image
Roz Stekjon from Kashgar, southern Xinjiang, owns a Beijing restaurant called Kashgar Flavor, which specializes in Xinjiang cuisine. The food style is very popular, he said, but wandering Xinjiang children are not.
"Some people in cities like Beijing and Shanghai now automatically assume that Uygurs are thieves because of those children, and I am not exaggerating," Roz said. "I don't want to blame them because they must have some bad encounters, but I think the government should have done something about it a long time ago."
Zheng Fen grew up in Shihezi in the Xinjiang Uygur autonomous region and has been working as a financial analyst in Shanghai for about two years. He does not expect a sudden change in the region's image with the government's unprecedented determination to bring the children home and repair the image of Xinjiang, but he is heartened that the Xinjiang government is taking action on its own initiative.
"They used to work on this issue quite passively. It is good that the regional government is really determined to change impressions about Xinjiang," Zheng said.
"It should be noted that some children left home because their families were too poor to let them go to school," Zheng said. "They have no choice but to wander about in bigger cities begging for a living."
Poverty is the root of the problem, said Li Xiaoxia, deputy director of Xinjiang Academy of Social Sciences. "We found that children from southern Xinjiang, which is less developed, are easily lured by criminal gangs with promises of a much better life," she said.