Frequent power cuts caused by rising consumption and insufficient coal stocks, Wang Zhenghua and Wu Yiyao report from Zhejiang.
Xu Shuhui had to tell his customers, once again, that their orders would be delayed because power cuts and blackouts had suspended production.
Since April, many businesses in Zhejiang province, one of China's most resilient economic engines in the Yangtze River Delta, have been hit by the worst power shortage in years.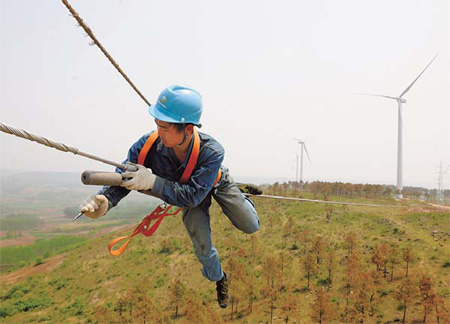 A technician braves the heights as he conducts routine checks at a wind farm in Laian county, Anhui province, in this photo taken on April 29. [Photo/China Daily]
"It's very annoying to alter production plans because of the power crunch," said Xu, deputy general manager of Cixi Henghui Chemical Fiber Co. Each blackout usually lasts about 12 hours, he said, and results in a 60,000 yuan ($9,200) loss - a handsome amount for a company with 120 employees.
What is worse, he said, is that Henghui and many other companies in the area have been told to prepare for more electricity cuts when the energy-consuming summer months descend.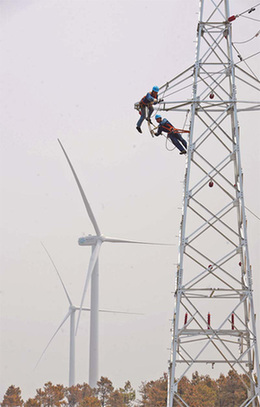 Two workers check the transmission line at a wind power plant in Laian county, Anhui province. China faces a severe power shortage. About 20 provinces and regions have already started rationing electricity.  [Photo/China Daily] 
Residents and key sectors will be given priority for electricity supplies.
The power shortage, which is rare in low-energy-consuming months, has cut a large swath in the country, including important economic powerhouses in the east and south and many provinces in other parts of China. A circular issued by China's top economic planning body, the National Development and Reform Commission, said about 20 regions in the country have already started rationing electricity.
Zhejiang province has a shortage of up to 3.5 million kilowatts these days, while the power company in neighboring Jiangsu province estimated it would be 11 million kW short for the summer, accounting for 16 percent of the total supply needed.
The worst power shortfall in years also has gripped such areas as Jiangxi and Hubei provinces and Chongqing municipality, where power use curbs were introduced earlier this year.
Power demand climbs
Causes include a jump in electricity consumption, insufficient coal stocks at power plants and low water levels for hydropower generation, authorities said.
The National Energy Administration reports that China's electricity use in the first quarter rose 12.7 percent year-on-year to 1.09 trillion kilowatts-hours.
Take Central China's Hunan province as an example. Consumption grew about 26 percent year-on-year to 8.2 billion kWh in April, despite local government's efforts to suppress the demand. The province is now 4 million kW short of demand.
China Electricity Council, a nonprofit organization of power enterprises and institutions, said there would be a gap of 30 million kW across the country this summer, an amount equivalent to the total electricity generation capacity of East China's Anhui province.
That figure was based on the most positive preconditions - that the summer is not extremely hot, that water flow is sufficient for hydroelectricity plants and that no emergencies require a significant extra power supply.
"Owing to excessively heavy demand, even with production and supply growth in the double digits, supplies of coal, power and oil in some regions are still tight, and future trends give no grounds for optimism," said Liu Tienan, the National Energy Administration's director. "Our country must vigorously prepare" for summer's peak demand for power.
Homes spared so far
It remains unclear whether residents' demand for electricity will be suppressed during the summer, though residents' power use has largely not yet been affected.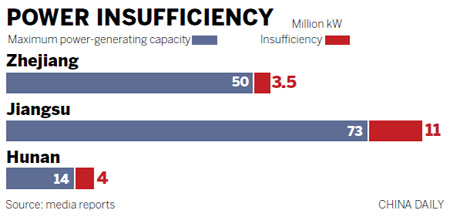 "Although government circulars have required power suppliers to secure power supply to residential users, it is possible that in some areas, especially North, Central and East China, residents will have to face power rationing during the peak season and they will have to turn off high-energy-consuming appliances like air conditioners for some hours during a day," a power supply specialist with the State Grid said on condition of anonymity.
People living in areas hardest hit by the power crunch have started preparing for rationing this summer.
"I bought a large fridge, with which I can make some ice blocks at home when it is powered on. These ice blocks can be used as a replacement for the air conditioner when our community is cut off from power," said Xu Qiang, 37, a resident of Hunan, where the daytime summer temperature could surge over 38 C.
The gap between supply and demand can become even wider, as power sources under construction are not enough to meet the increasing demand expected in the next two or three years, authorities warned. Thermal power plants running on coal will be discouraged by rising production costs and will be particularly insufficient, causing a drop of power production in the next few years.
Reliance on coal
The rising cost of coal, the largest source of power generation in China, has discouraged many power plants to increase their capacity to produce thermal power this year, while plants ran short of ways to raise the price of electricity, which is administered tightly by governments.
China relies heavily on coal for electricity production. More than 80 percent of power is generated by the fossil fuel. In the first quarter alone, 323.2 billion kW out of 383 billion kW - 84 percent - were generated from coal in China, according to the China Electricity Council.
But official figures show that the nation's new power generation capacity shrank by 2.68 million kW year-on-year in the first quarter. In Zhejiang, for example, no new thermal power generation units have been put into operation so far this year, while Zhejiang's capacity increased only 830,000 kW last year, a fraction of its current shortage of around 3.5 million kW.
The unwillingness of power plants to increase capacity pointed to the jump of coal prices. The average price of domestically produced coal reached 773 yuan a ton by the end of March from around 700 yuan in previous months. The price at major production sites, such as Shanxi and Inner Mongolia, has risen by double digits since earlier this year.
Fuel imports, on the other hand, declined in the first quarter year-on-year, according to the National Energy Administration. For instance, the floods in Australia early this year pushed up the price of Australian coal on international markets. In the first quarter of 2011, China imported 32.37 million tons of coal, a 26.4 percent year-on-year decrease.
Under the circumstances, the stock of coal at major power plants shrank quickly - to 53.1 million tons in April, sufficient for only 14 days, lower than the nation's warning level of 15 days.
Some captive power plants, those operated by big companies for their own use, simply suspended their production, increasing the pressure on public grid.
"For many power plants, the more electricity they produce, the more severe financial losses they will face," said Xue Jing, director of the Electricity Council's statistics department. "Power plants in China have been suffering from a short supply of coal for several years, and it reached a peak in 2011."
In the meantime, the low water levels for hydropower generation worsened the power crunch in the country.
More, more, more
Despite the short supply, the consumption of electricity in the country exploded in the first quarter, gaining 12.7 percent from a year earlier. Power use in March alone increased 13.4 percent from a year earlier.
Droughts affecting large areas of China boosted the use of electric irrigation equipment. Recovering economies encourage enterprises, especially manufacturers, to take more orders, which consumes more electricity.
And the resurgence of industries that are big energy consumers pushes up demand even further. It is that high consumption that worsened the power shortage in Zhejiang, said Yang Jianhua, a researcher at the provincial academy of social sciences.
Official figures show that investment in fixed assets rose 29 percent year-on-year for the first quarter in Zhejiang, while power consumption in high-energy sectors such as the chemical industry and non-ferrous metal production climbed 20 percent.
In Jiangsu, power consumption in industrial sectors jumped 23 percent in February year-on-year, as important industrial cities including Changzhou, Yancheng, Yangzhou and Lianyungang reported more than a 30 percent surge in electricity for industrial use.
Remedies
The National Development and Reform Commission has raised the electricity price in 16 provinces, making an average increase of 0.012 yuan a kWh for industrial use. The pricing of electricity in China is subject to approval of the central government.
The old electricity price was not adequate in an age of skyrocketing costs for coal, and the power shortage reflects that, said Zhou Dadi, vice-director of China Energy Research Society. And it's time to optimize the mechanism so it synthesizes the primary energy price and sales price, Zhou said.
For power plants, a comprehensive energy production and logistic system is perhaps a more plausible and beneficial approach in the long run, since raising electricity prices is largely not realistic and would greatly affect other industries.
Local government, for example, could make plans to ensure coal storage and provide stipends to power plants in case the money allocated to buy coal runs short, said China Electricity Council's Xue.
The shipment of coal could be made easier, reducing costs, if governments gave subsidies to power plants on coal delivery.
Constructing new power projects would be a solution to the power shortage, experts said. Power projects, especially a number of large and medium-scale hydropower projects, could considerably narrow the demand-supply gap. Developing efficient nuclear power under the premise of ensured safety would also help.
Also, the nation should continue to tightly control the development of high-energy-consuming sectors and highly polluting industries, pursuing a new growth approach, the experts said.
Local governments thus face a quandary: Can they maintain robust economic growth if it means losing the old, power-hungry economic growth engines?
"We understand that the government favors the high-tech industries and tries not to hurt them in the power crunch," Henghui's Xu said. "But the government should be cautious that industries such as chemical fiber still have a large production capacity and contribute a lot to local economy."