Offenders could face criminal punishment, report Hu Yongqi, Duan Yan and Wang Yan in Beijing.
A crowd gathered to watch on Nongzhan Bridge in Beijing's Chaoyang district as traffic police began their largest crackdown on drivers who drink.
A police sign placed on the road was emphatic: "Please obey command to be checked," as vehicles were diverted to a two-lane area so that drivers could undergo breathalyzer tests.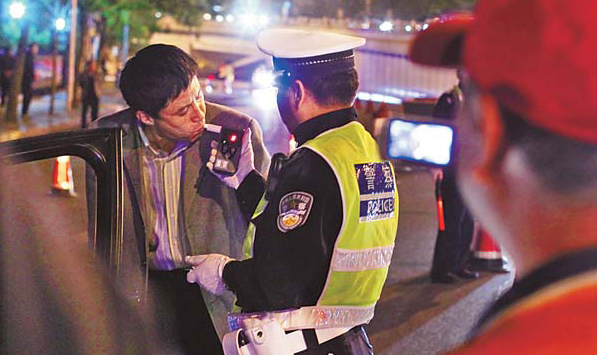 Police conduct random breathalyzer tests on Beijing's Second Ring Road on May 5, 2011. [Photo/China Daily] 
Ma Deqiang, who is in his 40s, suddenly got out of a car and rushed up to police officers. His driver had passed the test, showing no alcohol, but Ma said he wanted to know his alcohol level.
Ma said he had drunk one bottle of beer and 3 liang (150 grams) of white spirits half an hour earlier and had asked his driver to take him home.
The test showed that his alcohol level was 89 milligrams for each 100 milliliters of blood.
According to the newly amended Road Traffic Safety Law, Ma could have been arrested if he had been driving.
"I don't drink and drive. If I have to drink on a business dinner, my driver goes with me," said Ma, who has been running an information technology business in Beijing for about 10 years. "There have been so many catastrophic accidents caused by alcohol. People should ... be much more careful about driving after drinking."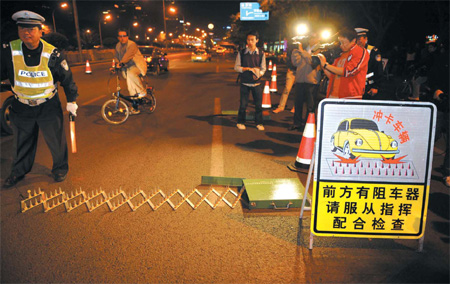 Police officers at checkpoints in Beijing on Thursday night were equipped with video recorders, tear gas and handcuffs. The nail strips are designed to puncture the tires of a fleeing car. Wang Zhenlong for China Daily
Under Chinese law, a driver with 20 mg of alcohol for 100 ml of blood is considered to be drunk. That has not changed. But as of May 1, the penalties became much harsher. Now, for the first time, a driver who registers more than 80 mg for 100 ml is subject to criminal punishment.
Liu Shuang, head of the traffic police team in Dongwai Dajie area, said drinking one bottle of beer, over two hours, will usually produce an alcohol level of 30 mg.
According to the newly amended Road Traffic Safety Law, a drunken driver's license will be revoked and the driver must wait five years before applying for a new license. The penalty applies to any driver with 20 mg alcohol or above.

Drivers with more than 80 mg of alcohol will be held in detention for one to six months. Anyone whose drunken driving leads to a death or the injury of at least two people will be banned from driving for life. Drivers found to have committed severe violations will go to prison.
The previous regulation stipulated fines of up to 500 yuan and the suspension of the driver's license for three to six months.
Since May 1, nine people in Beijing have been arrested for driving with blood alcohol levels of 80 mg or more. The first goes on trial on Monday.
Nobody tested drunk Thursday night at Nongzhan Bridge, and the breath tests showed that eight of the 300 or so drivers who were checked in 2 hours had been drinking, but their blood alcohol "scores" were below 20.
All 7,000 traffic officers under the Beijing Traffic Management Bureau took part in the crackdown, and each inspection team consisted of five officers and seven assistants, who kept traffic moving around the checkpoints. In all, about 16,000 people worked at about 1,400 checkpoints throughout Beijing. The campaign continued on Friday from 6 am to midnight, and no one was arrested for drunken driving.
Growing threat
The number of cars and other vehicles in China is rising quickly - an average of 15 million automobiles have been added annually over the past five years - and with it the number of accidents. Fatal crashes have become a major cause of death for Chinese people under 45.
The Ministry of Public Security said more than 65,000 people were killed in traffic accidents last year. Police caught 526,000 drunken drivers in 2010, a year-on-year increase of 68 percent.
With traffic police out in force this Labor Day holiday, the number of traffic accidents dropped by 18.6 percent from last year. Even so, 423 people were killed and 1,740 injured in 1,459 traffic accidents nationwide from April 30 to May 2, the ministry said in a statement on Wednesday.
Potential problems
The tougher punishment for drunken driving has increased the risk of confrontation with police officers who are enforcing the law. In one recent, though extreme, case a drunken driver in North China's Shanxi province bit a police officer's hand in an attempt to avoid an alcohol test.
In Beijing, the officers who worked at the checkpoints were equipped with video recorders, tear gas and handcuffs, among other tools. They also had 10-meter nail strips designed to puncture the tires of a fleeing car.
At the Nongzhan Bridge checkpoint, one driver's breath test showed that he had 4 mg of alcohol for each 100 ml of blood. He said he had not drunk any alcohol. A police officer suggested he have a sip of water, and a second test showed no alcohol in his body. Police will take a blood sample from a driver whose breath test indicates 80 mg of alcohol or more.
Since May 1, rumors have spread on the Internet that some food and medicine containing a little alcohol may result in drunken driving. Police said drivers should not drive in the first hour after ingesting such a substance, but that the alcohol content is small and will metabolize quickly.
One driver interviewed in Beijing, who did not want to be identified, asked, "What if the police selectively detain individuals with less political power and connections and let drunken driving government officials go?"
To avert interference by powerful people, traffic officers have been ordered to leave their mobile phones at home when they are working at a checkpoint. And they are not allowed to pick up any driver's mobile phone, in case someone the driver knows would be on the phone, asking that a drunken driver be let go.
A policeman who asked not to be identified told China Daily that the police are not eager to see drunken driving. "It puts all people, including drivers, riders, passengers and their families, at high risk."
Notorious cases
In 2009, 30-year-old sales executive Sun Weiming, an unlicensed hit-and-run driver in Chengdu, was sentenced to death for endangering public safety after he had killed four people in their 50s and injured one in a drunken-driving accident in 2008.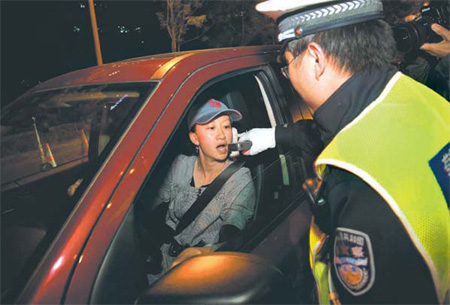 A woman breathes into a device that measures blood alcohol level. A driver is considered drunk with a reading of 20 mg. At 80 mg, the traffic safety violation becomes a criminal case. Provided to China Daily
Sun was known as China's first drunken driver to be charged with endangering public safety and to be sentenced to death. His sentence was later reduced to life in prison.
Under the China Road Transportation Safety Law at the time, a drunken driver who killed or injured others faced a maximum of seven years in prison for killing by negligence.
On Feb 10 last year, the Supreme People's Court issued a statement on drunken driving punishments. It said the charge of endangering public safety applies in cases involving death or serious injury because drunken drivers are aware that what they are doing is against the law and that it will endanger public safety.
In another notorious case, Li Qiming, 23, killed a college student in a drunken-driving hit-and-run on Oct 16 in North China's Hebei province. Li was sentenced to six years in jail after he pleaded guilty in January to drunken driving and vehicular manslaughter.
Zhou Guangquan, a law professor at Tsinghua University and a member of the National People's Congress Law Committee, said about 70,000 drunken driving cases are brought to the courts every year.
Zhou said workloads in criminal courts will increase now that drunken driving is no longer a traffic safety violation but can be a criminal offense. He suggested special courts be set up to accelerate the procedures of such cases.
Zhang Zhuting, a member of a legal consulting committee under the Ministry of Transport, sees other problems. For example, he said, drunken driving is handled by traffic police, but when it becomes a criminal offense it should be transferred to criminal police.
The Supreme People's Procuratorate and the Ministry of Public Security still have work to do regarding implementation of the new laws, Zhang said.
Other consequences
The penalties for a drunken driving conviction are not restricted to court judgments.
With a criminal offense on their records, people cannot apply for civil service jobs.
And those already holding government posts will lose their jobs. The Regulation on the Punishment of Civil Servants of Administrative Organs of 2007 said that civil servants who are given criminal punishment will be expelled from work.
Lawyers who are caught driving drunk will lose their licenses to practice law. Employers can fire their employees who are given a criminal penalty.
Alternatives
Taxi drivers said they have not noticed a difference in patronage since the harsher penalties took effect, but more people are turning to driving services when they know they'll be drinking. He Jin, general manager of Ben'ao Anda Automobile Driving Service Co, reported a 10 percent increase in business.
As China's first driving service provider, founded in 2003, the company averaged 110 orders a day before May 1. Now they run to about 120 a day. He estimated that throughout Beijing, 300 to 400 people call for a driving service after drinking at night.
"For businessmen, dinners and parties can't be avoided. Currently, ganbei culture (drinking alcohol during dinners) is still dominant and so our service still remains popular for those who get drunk," He said.
Meanwhile, sales of alcohol seem to be down and soft drinks up at restaurants. Ten restaurants on Huixin Dongjie in Beijing's Chaoyang district reported a decrease of more than 10 percent in retailing white spirit and beer.
Du Zhengxing, 29, said he makes a choice: Drink or drive. "Therefore, we order juice instead of alcohol when I drive."