Thousands of students have benefited from middle school program set up outside the autonomous region, Hu Yongqi reports from Lhasa.
Sonam Jorden has come a long way from the days when he walked 10 kilometers along dirt roads to his remote primary school in the Tibet autonomous region.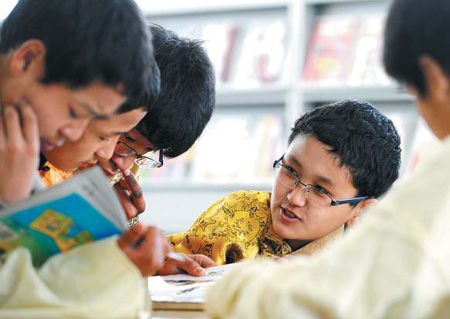 Tibetan middle school students study at a library in Hefei, capital of Anhui province, in this photo taken on April 23. [Photo/Xinhua]
At 29, he is a maintenance engineer at the largest geothermal power operation in China.
He is now back home in Tibet, but his route from birthplace to first job took him to coastal China for 10 years of schooling, starting in a Tibet middle school.
The middle school program was launched in 1985 to overcome a shortage of facilities in Tibet.
Since then, about 34,900 children have left their homes on the plateau or in
mountains and valleys to study in 21 regions outside Tibet, and 18,000 have returned to work in Tibet.
"Tibet middle schools in other provinces and municipalities have become an important educational platform for Tibetan children that brings them a precious opportunity for better education and career prospects," said Song Heping, director of Tibet's education department.
Sonam Jorden said his studies "fundamentally changed" his life and the fate of his family. That's the goal of the program: To change the fate of young Tibetans and contribute to the region's social and economic development.
Education fundamental
In August 1984, an inspection team led by Vice-Premier Tian Jiyun surveyed education in Tibet and found the region with few qualified teachers. Before 1951, monasteries were the only place to learn to read and write, leaving most Tibetans illiterate.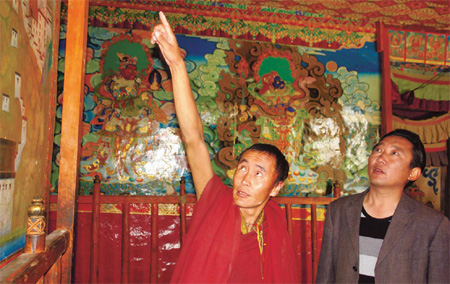 Tashi Tsering (right), a 1991 middle school graduate from Beijing Tibet Middle School, is deputy director of the religious affairs bureau of Dingri county of Xigaze prefecture. He checks with a lama about paintings in a monastary. Provided to China Daily 
Four months after the education survey, the Ministry of Education and the State Planning Commission issued a notice establishing three middle schools in Beijing, Tianjin and Lanzhou, for Tibetan students. Each was to recruit 700 students. The notice also stipulated that 16 Tibet classes would be set up in places such as Shanghai and Tianjin municipalities, Zhejiang and Anhui provinces.
Since 1989, the program has expanded to include high school classes at three schools, and 14,900 young people have qualified to study at that level. More than 11,000 have graduated from 90 key universities across China.
The current enrollment at 28 Tibet middle schools in 21 provinces outside the autonomous region is 21,800 students, according to the education department of Tibet. Their food and accommodations are paid for by the central government.
The program also has expanded to include training for technical personnel and teachers for Tibet.
"Education and educated people are fundamental to local development, especially for remote Tibet," said Tenzin, director of the Social and Economic Institute at China Tibetology Research Center in Beijing.
For two decades, 29 provinces, municipalities and autonomous regions have sent teachers to Tibet to work with teachers and children there. But that approach "is relatively a short-term effort, lacking continuity", said Zhang Mei, vice-president of Beijing Tibet Middle School. "Therefore, we should take advantage of education resources in eastern and central regions to provide Tibetan students with sustainable access to higher education."
Students trained in the Tibet middle school project have grown to form a majority in all trades and professions in Tibet, Tanzin said. Many have taken leadership positions in companies and government, contributing more to the development of their native region.
"Our teachers could meet our students almost in every corner of Tibet," said Zhang, who has been at the school since it opened in 1987.
Beijing Tibet Middle School is the largest and best-known Tibet middle school in the country. By the end of 2010, it had educated 1,135 middle school students and more than 3,100 high school students. More than 2,000 of its students have returned to Tibet, working in such fields as telecommunications, banking, education, newspapers and the energy industry.
Energy, not sheep
Sonam Jorden was born in Cona county of Shannan prefecture, a small county neighboring Nepal. In 1993, when he was in sixth grade, his teacher told him there was a chance he could live and study in South China's Guangdong province if he took a test and scored well.



Many graduates from Tibet middle schools across China work in important fields back home in Tibet. These three graduated from Beijing Tibet Middle School. From left: Tsepel, a 1997 high school graduate, is a gynecologist at the No 1 People's Hospital in Lhasa. Tseping (right), a middle school graduate in 1991, is a judge of Gyangze court in Xigaze. Chungkyi, a 1996 high school graduate, is deputy dean of the No 2 Primary School in Nyingchi. Provided to China Daily 
At the time, parents in Cona were unwilling to send their children to high school locally because it did not pay off. After three years of high school, many teenagers still ended up as farmers. The possibility of studying in Guangdong made Sonam Jorden nervous, he said, but his father encouraged him without hesitation.
"The competition is very ferocious when primary school students apply for Tibet middle schools," Zhang said. "Only one out of 20 applicants will be enrolled."
Sonam Jorden prepared for two months, studying and asking his teachers questions. He became one of 10 students chosen from 200 applicants, and they all headed to the Tibet class affiliated with Huizhou No 8 High School. Sonam Jorden would stay there four years. His first year was dedicated to acclimating to the local environment. He would later attend Hohai University in Nanjing, majoring in thermal energy and dynamics.
He was offered a well-paying engineer's post at an established energy company in Jiangsu province after graduation, but he followed his parents' wishes that he return to Tibet. He is in charge of the repair and maintenance of energy equipment at Yangbajain Geothermal Power Station, which has provided Lhasa more than 2.4 billion kilowatt-hours of electricity over the past 35 years.
He has entered his busiest season because Lhasa, capital of Tibet autonomous region, consumes more electricity in summer. Last summer, he went to see his parents only once, and he expects that this summer will be no different. Sonam Jorden works in Damxung county, 60 km northwest of Lhasa, and his parents live 375 km southeast of it.
"Though I am very busy, I feel more relaxed and cheerful here," he said. "Ten years of study in Guangdong and Jiangsu were meant to do good to my family and my hometown. If I didn't attend the Tibet class in Huizhou, I may have had to follow my father into raising sheep. The work at this geothermal power plant is what I expected, and I can make use of what I learned to make a difference."
Looking ahead
Sonam Jorden would have been paid more in Jiangsu, but he said he has no regrets. He earns 3,500 yuan ($539) a month and saves 2,000 yuan in the bank. He estimated that in two years, he will be able to afford an apartment in Lhasa and live again with his parents.
Dozens of his childhood playmates are farmers in his small hometown and are "a little jealous" when he mentions his experiences with aircraft, Internet cafes and football games. Many of his old neighbors have started to encourage their children to apply for a Tibet middle school, he said.
"Years ago, parents were reluctant to send their children to study in other provinces," said Pasang Namgyal, deputy director of the education bureau of Linzhou county, which is 65 km from Lhasa. "However, the enthusiasm has been growing among parents as they see the success of other children who returned to Tibet becoming more knowledgeable and cultivated."
Now parents are looking for a better education and kids are expected to complete high school, Sonam Jorden said with a smile. The young ones now expect to study at Tibet middle schools, and graduates say they miss their time there.
Dampa Tsering, who graduated from Beijing Tibet Middle School, now works as a township official in Lhasa's Tohlung Dechen county. He said his four years studying in Chongqing and three years in Beijing will stay in his memory for life.