Higher returns from property, stocks and commodities lure factory owners, reports Yu Ran in Shanghai.
Wenzhou seems to be undergoing a midlife crisis.
A secondary city in East China's Zhejiang province, it built a vibrant manufacturing base for a wide range of consumer goods - from shoes to ties, cigarette lighters to spectacles - over the past three decades, helping make China the world's workshop.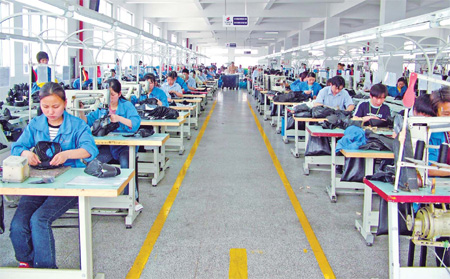 Workers at Dongyi Shoes Co Ltd were busy with their work in this 2010 photo. Like other shoe manufacturers in Wenzhou, Zhejiang province, Dongyi has used some of its earnings for property investment and the equity market. Provided to China Daily 
But labor is not as cheap as it was and inflation is squeezing profit margins. Many factory owners are chasing higher financial returns by investing their capital in property, stocks and commodities.
The birthplace of China's private economy, a producer of tangible goods, has become a hotbed of enterprising business people whose collective investments have moved the price of land and commodities in cities and towns around the country. And now some of those people are moving their operations out of the city.





What does that mean for Wenzhou? What does that mean for China?
On a sunny morning, Wutian Road is deserted. It used to be thronged with people and trucks moving goods in and out of the factories. Sitting on a stool outside the closed gates of a factory, 70-year-old Chen Jianjun continues to keep watch against petty thieves who no longer return.
Seventy people worked at the lighter factory when Chen was hired as a watchman in 2002. "I saw the number rise to a peak of 300 in 2007," he said. Since then, the factory has gone on a rapid decline, as fewer orders have come in from overseas or the domestic market. None of the remaining workers returned to work after the 2011 Chinese New Year break, Chen said.
As old lighter and eyeglass operations shut down, some other companies moved in and started making shoes or clothes.
"Normally the closing down and staying empty of a factory won't last over two months, and buyers will come along to speculate in the area and workshops, so the number of my customers won't decline," said Cai Qian, who owns a convenience store nearby.
At the latest count, Wenzhou had 240,000 privately owned commercial and industrial enterprises. Those numbers do not reflect the recent decrease in manufacturing.
With a GDP of more than 292 billion yuan last year, 11.1 percent higher than the previous year, the average annual income of Wenzhou residents exceeded 31,201 yuan ($4,807). The national average for urban residents last year was 21,033 yuan.
Branching out
Gao Tianle, a 48-year-old entrepreneur, is chairman of Zhejiang Tengen Group, one of the largest industrial electrical equipment manufacturers in China. He dipped his toe into new waters in 2003 when he launched a property agency in Nanjing and an investment company in Shanghai.
"I started in 2001 putting money into equity investment to make use of extra money," Gao said.
With assets of 1.66 billion yuan, Tengen Group has headquarters in Shanghai; four factories and office buildings with research centers in Wenzhou, Shanghai, Nanjing and Jiaxing; a scientific research base in Silicon Valley in the United States; and 16 subsidiaries all over China.
It also has developed at least four luxurious neighborhoods in Nanjing, Jiangsu province, expanding its real estate investments to include interior design and property management. The company also bought enough shares in commercial banks to have some say in how they operate.
"I've never borrowed money for investment," Gao said. "It's essential to use only cash."
Gao said he might grab other investment opportunities but he is still keen to keep his company a leader in manufacturing industrial electrical facilities.
Calling it quits
There is no juggling of interests for Zheng Bangguo. After three years of making industrial valves, he became one of the first manufacturers to give up his enterprise for full-time real estate investment. That was 18 years ago, and he has since retired from seeking new investments.
"Since I found it harder and harder to make money from manufacturing . . . I decided to shut the factory down and invest all my savings of 2 million yuan in the real estate market in 1993." That was when property opened up for investment, and Zheng saw it as a big chance to make money in a short time.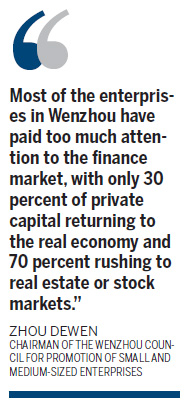 He said profits from his manufacturing operation topped out at 5 percent, but the return on his real estate investments in his first three years was more than 50 percent. "I concentrated on residential block investments in Wenzhou, where the price per square meter has risen from 6,000 yuan to 50,000 yuan."
Figures from a local real estate agent show that the average overall deal price in the final quarter last year was about 28,000 yuan per square meter, highest in the nation.
The government recently tightened policy on residential transactions and Zheng saw it coming, so he decided early to make another shift with his money. "I stopped investing in the real estate market three years ago and started making private loans in the underground market, the gray market."
Zheng said he quit that endeavor last year because he is 61 now and not as willing to handle high risks.
Going underground
Financial experts in Wenzhou said underground banks have been raising their interest rates to attract new money to fund their increased lending activities. It was widely reported that some gray market profits were used in hoarding pork, maize and garlic, causing shortages and staggering price fluctuations.
Gray-market lenders are particularly active in Wenzhou. The most recent figures available from the Wenzhou branch of People's Bank of China, from last year's second quarter, showed that 89 percent of families or individuals and nearly 57 percent of enterprises had either borrowed from or made deposits to non-bank finance companies.
Despite the lack of legal standing to enforce repayments, underground banks hire debt collectors to claim loans from debtors in arrears, generally by visiting the debtor's apartment daily until the money is repaid, Zheng said. "These debt collectors use methods that can be most persuasive."
Private capital
Zheng's shift away from manufacturing reflects a common situation affecting China's private capital. Due to pressures from escalating labor costs, inflation and excess cash, manufacturers are looking for other ways to earn, spend and increase their money. In 2009, more than one-third of private capital in China was invested in real estate.
"Private businesses in Zhejiang now allocate their money this way: one-third for manufacturing, one-third for real estate and one-third for financial investment," said Zhou Dewen, chairman of the Wenzhou Council for Promotion of Small and Medium-Sized Enterprises.
The profit margin in real estate has been running at 30 percent or more. Financial investment also generates handsome returns. By contrast, profits from manufacturing have been squeezed paper-thin.
"It is not surprising at all that private businesses are shifting from manufacturing, because capital chases profits in nature," Zhou said.
The Wenzhou administration for industry and commerce reports that more than 300 registered companies are listed as financial services companies, private loan agencies and the like, with up to 150 billion yuan invested in medical equipment, tourism, consulting and guarantee agencies.
Moving away
China's 12th Five-Year Plan (2011-2015) looks to transform its labor-intensive manufacturing economy into one based on technology and innovation. Wenzhou's municipal government released a document in December about upgrading the economic structure, and it noted the costs of raw materials, export expenses and land use. All have risen dramatically, the report said, reinforcing some enterprises' moves out of the city.
"It is getting harder and harder to maintain good profits from making shoes and other small commodities, so a great many merchants gave up," said Xie Rongfang, secretary-general of the Wenzhou Shoe and Leather Industry Association.
The association reported that more than 6,000 factories made shoes at its peak before the world financial crisis. The current number is 2,000.
Strong local companies such as Aokang, Kangnai and Dongyi have stayed in the shoe business, but they have moved industrial bases and factories out of the city, some to inland Anhui and Sichuan provinces.
"I've already moved two main workshops from Wenzhou city to the rural area of Hunan and Guangdong provinces to fill the shortage of labor, since more migrant workers preferred staying at their hometowns to lower their living expenses," said Michele Wang, the owner of Wenzhou Michele Lingerie Co Ltd. More than 1,000 small- and medium-sized enterprises have done the same thing in the past three years.
Dongyi Shoes Co Ltd signed an agreement with the economic development district in Suzhou, Anhui province, in October to invest 600 million yuan on a factory covering 40 hectares. It expects to make more than 30 million pairs of shoes a year, worth 4.6 billion yuan, and to employ up to 18,000.
Also like other shoe manufacturers in Wenzhou, Dongyi has earmarked some of its earnings (20 percent in Dongyi's case) for property investment and the equity market in the city. "In order to avoid taking a huge risk, we never make an investment individually but collaborate with other shareholders" in developing real estate, said Chen Xi, Dongyi's manager.
The Wenzhou model
This group speculation on property is a style of investment unusual elsewhere in China. These fortune-makers cashed in tens of millions of yuan and pooled their resources to buy dozens of apartments and villas in one-off payments. Then, when prices went up, they sold the properties for handsome profits. They have come under intense criticism for pushing up China's housing prices.
In the process, they have also established a new business model with the mixed role of manufacturer and property investor. The intense and collective investment approach, including the gray market, also is distinctive of Wenzhou.
Statistics provided by local government indicate that fewer manufacturers want to make shoes. In the first quarter of 2009, the most recent data available, investments in shoe manufacturing totaled 625 million yuan, a 45.8 percent decrease from the previous year.
This matters because shoes are responsible for up to 70 percent of the manufacturing in Wenzhou. Last year, more than 2,000 enterprises shut down, more than half of them involved in manufacturing.
Zhou, from the small- and medium-sized enterprises council, fears what this might mean for the city and the province. If fewer factories make goods for the country and for export, it will cause a severe imbalance between supply and demand, he said. Wenzhou, one of the most productive regions in China, will hollow out and China might lose its manufacturing advantage.
"Most of the enterprises in Wenzhou have paid too much attention to the finance market. Only 30 percent of private capital returns to the real economy and 70 percent rushing to real estate or stock markets," Zhou said.
Ma Jinlong, an economist and former director of the People's Government Economic Research Center of Wenzhou, has a more optimistic view based on his view of investment as an upgrade from industry.
"Although more manufacturers turning to real estate seems to be a bad sign . . . we could also see it as a business transformation for enterprises, making money from their earnings for even better profits."
Major manufacturers in Wenzhou have not moved their full focus to investment, Ma said, but have tried to get out of the city so they can expand. "The new transformation shouldn't be recognized as a severe problem."