Top leaders support soccer partnership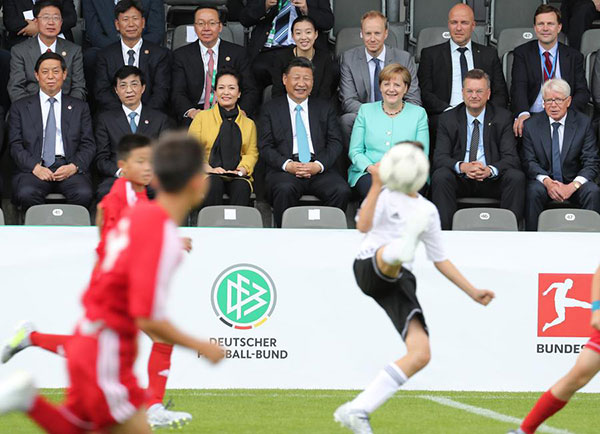 President Xi Jinping (C, front), his wife Peng Liyuan (3rd L, front) and German Chancellor Angela Merkel (3rd R, front) watch a friendly football match between Chinese and German youth teams in Berlin, capital of Germany, July 5, 2017. [Photo/Xinhua]
Youth squad will join German league
By Sun Xiaochen
A Chinese under-20 soccer team is training to become the newest member of the fourth division of the German soccer system.
The Chinese Football Association said a team will join the Regionalliga Sudwest, a fourth-tier league in southwest Germany, for the 2017-18 season.
The plan is part of a five-year agreement between the two countries to improve Chinese soccer.
"To provide this group of players with a more competitive environment in order to improve, we have been talking with the German side to finalize the arrangement for the U20 (team) to play in the German league," CFA spokesman Huang Shiwei said last week.
The Regionalliga Sudwest, one of five regional leagues in the German fourth tier, has 19 clubs. The new season will be from August to May.
Felix Wiedemann, managing director of the league, confirmed the Chinese team's inclusion.
"All 19 clubs in the league have signed their approval for the Chinese side to play," Wiedemann told German newspaper Bild. "I see the project as being in a good position."
China is working to develop its soccer talent. Two years ago, education authorities included the sport in the national curriculum for schools.
Ronny Zimmerman, vice-president of the German Football Association, said German clubs are in favor of the idea.
"The planned cooperation with China is well-known, and of course we need good content for it, so we have to see if the idea is successful," Zimmerman was quoted by German sports magazine Kicker as saying.
Germany and China signed a five-year soccer exchange partnership in November, witnessed by Chinese Vice-Premier Liu Yandong during her visit to Germany.
Since then, soccer development exchanges on multiple levels from youth training to national program development have been organized between the two countries. In June, Frankfurt hosted a Chinese-German Football Summit.
The CFA's Huang said technical and logistical issues, such as where the Chinese youth team will play its "home" matches, have yet to be addressed.
"We are trying to reach agreements with the Germans," she said.
It's not the first time a soccer team from China will have played in Germany. In 2004, an under-18 team traveled to Bavaria for a two-year training program under German coach and former player Eckhard Krautzun.
"This new program now is like an upgraded version ... with a more consistent framework to play in an established league," said Ma Dexing, a commentator with Titan Sports media. "Hopefully, the intensity of consistent competition over there will help the players grow fast."