Election gamble may fail as polls hint at close finish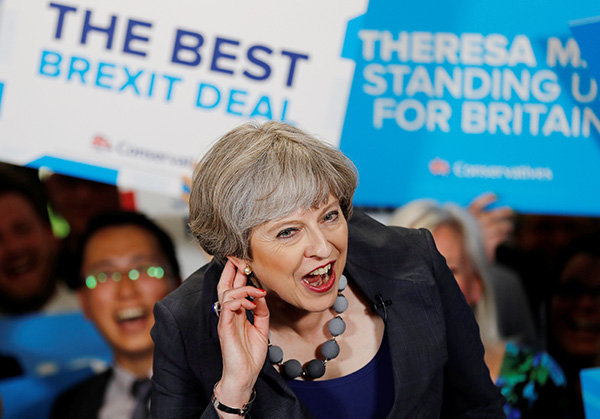 Britain's Prime Minister Theresa May reacts as she speaks at an election campaign event at Pride Park Stadium in Derby, Britian June 1, 2017. [Photo/Agencies]
The United Kingdom general election is looking increasingly hard to predict after the Prime Minister Theresa May made a series of errors and appeared ill at ease during campaigning.
In contrast, Jeremy Corbyn, the leader of the opposition Labour Party, has looked relaxed and his manifesto has been well received by some sectors of the electorate.
All the opinion polls suggest that May's Conservative Party will still win, but some put her lead at 3 percentage points, which would mean the prime minister would not be able to command a majority in parliament. Other polls judge her lead to be greater.
May had a majority of 17 in the last parliament and failure to improve that would be seen as a defeat.
On Wednesday night, May did not attend a televised debate for party leaders, for which she was widely criticized.
May called a surprise election last month when the opinion polls put her 20 points ahead of Corbyn. At first it looked as though the gamble would pay off, but that lead has been eroded as the campaign has progressed.
The main thrust of her campaign has been to ask voters who they trust to represent the UK in the Brexit negotiations which will start on June 19, 11 days after the general election.
But in a series of public appearances and interviews, May has appeared vague, repetitive and not "strong and stable", the phrase she has repeated.
The turning point for May was the release of her party manifesto last month, which included policies that appalled some of the Conservatives' key voters.
She was particularly hit by a policy that has become known as the "dementia tax", whereby elderly people would use the value of their homes to pay for social care. May was forced to back down.
Corbyn has offered voters a series of expensive left-wing policies. He has said he wants to nationalize rail services, the mail and the water supply companies and remove university tuition fees. The party says that it will pay for these policies by taxing the rich and closing loopholes.
The contents of the party manifestos are likely to be irrelevant in a parliament that will be dominated by the mechanics of leaving the European Union.
The election result will be affected by the number of young voters, who will likely favor Corbyn, and of the estimated 3 million people who voted for the first time to back Brexit.
Conventional wisdom is that they should vote Conservative, but they may find themselves more emotionally attracted to Corbyn than May.
conal@mail.chinadailyuk.com