Schulz confirmed SPD chief to challenge Merkel in elections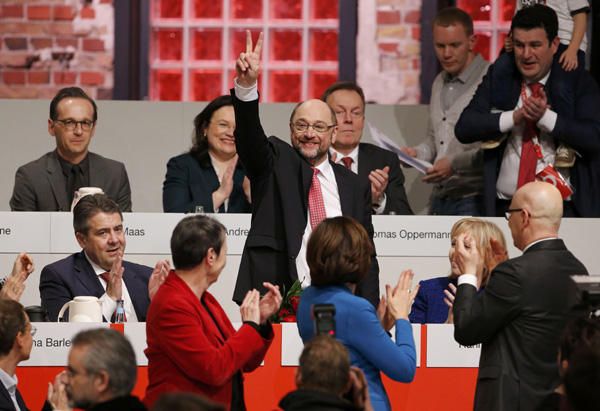 Martin Schulz reacts after he was elected new Social Democratic Party (SPD) leader during an SPD party convention in Berlin, Germany, March 19, 2017. [Photo/Agencies]
BERLIN - Germany's Social Democratic Party (SPD) confirmed Martin Schulz as its leader at a party congress here on Sunday to challenge Chancellor Agenla Merkel in upcoming elections in September, Deutsche Presse-Agentur reported.
The party congress, held in Berlin, endorsed Schulz's leadership by a unanimous vote. Schulze, 61, was former European Parliament president.
The confirmation was largely expected since the party nominated Schulz as the party's candidate for chancellery at a closed door meeting in Berlin on Jan 29.
The nomination of Schulz's candidacy came a few days after Vice Chancellor Sigmar Gabriel surprisingly announced his resignation from party chairman and proposed Shulz to replace him.
Gabriel, a long-time hopeful for SPD candidate to challenge sitting Chancellor Merkel, said he would not participate in the Sept 24 general elections.
Gabriel's decision not to run against Merkel as SPD candidate largely because of poor poll results while Shultz's candidacy would instead raise SPD's prospects in the upcoming elections, according to observers here.
The SPD, or Sozialdemokratische Partei Deutschlands, is currently a major partner of the ruling coalition and had been trailing Chancellor Merkel's Christian Democratic Union (CDU) in opinion polls for years before Schulz's nomination as party candidate for chancellery.
The center-left party has seen a rise in recent opinion polls, fueling speculations that Schulz may have a chance to defeat chancellor Merkel in the national elections.