FM: Preparations underway for Xi-Trump meeting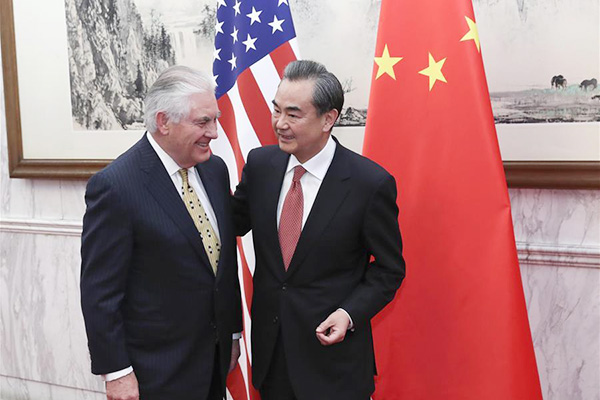 Chinese Foreign Minister Wang Yi (R) meets with US Secretary of State Rex Tillerson in Beijing, March 18, 2017.[Photo/Xinhua]
China and the United States have had in-depth discussions on arranging the meeting of their top leaders in the near future, and they have initiated relevant preparation, Foreign Minister Wang Yi confirmed on Saturday.
Wang made the remarks at a joint press conference with visiting US Secretary of State Rex Tillerson in the wake of their meeting earlier in the day.
"The two sides agreed to maintain close contacts on this and ensure successful and fruitful exchanges between the top leaders and those conducted in various levels," Wang said.
The two countries will embark on high-level dialogue and pragmatic cooperation in a wide range of areas, such as diplomacy, security, economy and trade, law enforcement, cyberspace and culture.
Referring to two-way trade ties, Wang said the two sides should properly tackle economic and trade friction to achieve mutual benefits and a win-win situation.
Wang noted that it is normal to see some divergence and differing views existing between China and the US, and the two sides should "embark on constructive manners to tackle, manage and control sensitive issues and divergences".
During their meeting, Wang stated China's positions over topics such as the Taiwan question and the South China Sea issue, and he said the two sides should pay respect to the core interests and major concerns of each other.
Tillerson said Washington honors the one-China policy, and is ready to work with Beijing to honor the spirit of no-conflict, no-confrontation, mutual respect, mutual benefits and win-win.
Wang reiterated China's opposition against the US deploying the THAAD anti-missile system in the Republic of Korea.