Park Geun-hye says sorry to people before entering prosecutors' office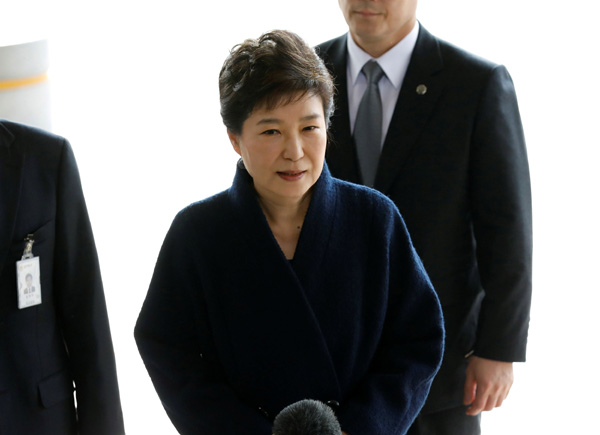 South Korea's ousted President Park Geun-hye arrives at a prosecutor's office in Seoul, South Korea, March 21, 2017. [Photo/Agencies]
SEOUL - Ousted South Korean President Park Geun-hye appeared Tuesday in the prosecutors' office to be questioned over a corruption scandal that led to her impeachment earlier this month.
Park said in front of cameras at the Seoul Central District Prosecutors' Office that she was sorry to people, vowing to face an interrogation faithfully, TV footage showed.
Just leaving a brief message to the public, Park entered the prosecutors' office in southern Seoul.
Park, dressed in a dark blue coat, walked out of her private home in a southern district of Seoul at about 9:17 am local time (0017 GMT), getting into a black sedan and saying nothing to hundreds of supporters outside her home.
The motorcade, carrying Park and security guards, arrived in the office just minutes later.
Park has stayed in her private home since she vacated the presidential Blue House on March 12.
Park will be interrogated by state prosecutors for her alleged involvement in the scandal, which removed her from office after the impeachment was passed in the parliament on Dec 9. The constitutional court upheld the motion on March 10.
Park became the fourth South Korean former president to be grilled by prosecutors.
During the interrogation that is forecast to last to midnight, prosecutors would focus on Park's alleged involvement in bribery, abuse of power and leakage of state secrets. A total of 13 charges were levied against her.
Park, 65, has been accused of colluding with her decades-long confidante Choi Soon-sil, who is now in custody, to receive tens of millions of US dollars in bribes from Samsung Electronics Vice Chairman Lee Jae-yong, the heir apparent of Samsung Group.
The kickbacks are suspected of being offered in return for helping Lee inherit the overall management control of the country's biggest family-controlled conglomerate from his ailing father Chairman Lee Kun-hee, who has been hospitalized after a heart attack almost three years ago.
Park was also identified as an accomplice of Choi in helping solicit tens of millions of U.S. dollars from scores of large business conglomerates to establish two non-profit foundations Choi used for personal gains.
Choi has been charged with meddling in state affairs behind the scenes by receiving government documents on a regular basis delivered by one of Park's former presidential secretaries.