Sturgeon takes independence referendum call to Scottish parliament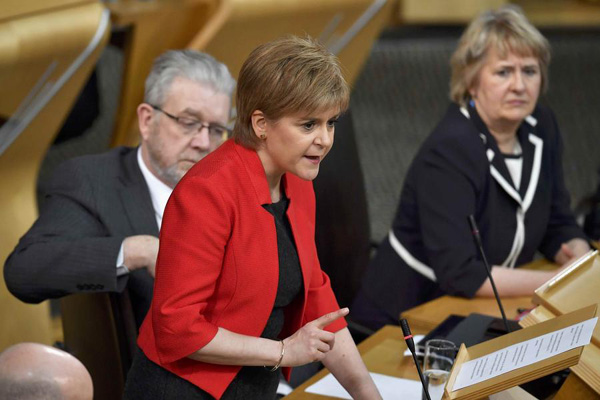 First Minister of Scotland Nicola Sturgeon speaks in the chamber at the Scottish Parliament in Edinburgh during a debate on an independence referendum in Edinburgh, Britain March 21, 2017. [Photo/Agencies]
LONDON - Scottish Nationalist Party leader Nicola Sturgeon took her battle for a new independence referendum to the Scottish Parliament Tuesday in her biggest challenge so far to the British government at Westminster.
Sturgeon, First Minister at Holyrood where the SNP is the largest party, started a two-day debate calling for the people of Scotland to decide what kind of government they want.
She is calling for a referendum to be held between the autumn of 2018, when there is clarity over the outcome of the Brexit negotiations between Britain and the European Union, and around the point at which Britain leaves the EU in spring 2019.
Scotland, said Sturgeon, was standing at a hugely important crossroads.
Sturgeon said Scotland voted by 62 percent to 38 percent to remain in the EU and now faces the prospect of being taken out of the EU against its will.
Sturgeon insists the Scottish government has an unquestionable mandate to hold another independence referendum.
"The future of Scotland should not be imposed upon us, it should be the choice of the people of Scotland," she told the parliament in Edinburgh, adding it would not be acceptable for the British government to stand as a road-block to the will of the Scottish parliament.