Macron, Le Pen clash in first French election TV debate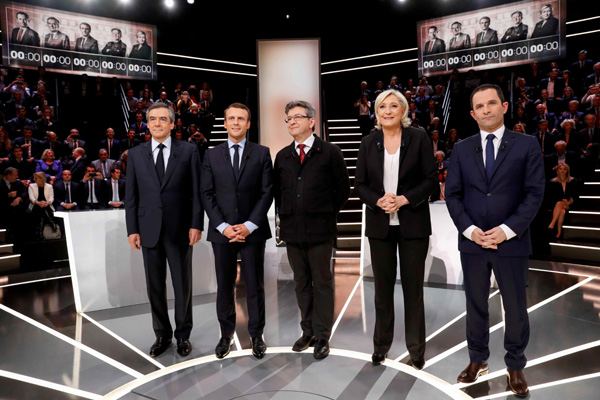 French presidential election candidates (LtoR) Francois Fillon, Emmanuel Macron, Jean-Luc Melenchon, Marine Le Pen and Benoit Hamon, pose before a debate organised by French private TV channel TF1 in Aubervilliers, outside Paris, France, March 20, 2017. [Photo/Agencies]
PARIS — The two front-runners for the French presidency clashed spectacularly in the campaign's first televised debate between leading candidates Monday night.
All five candidates landed punches during vigorous discussion on the big issues for France: jobs, terrorism, immigration, Europe.
But the faceoff between independent centrist Emmanuel Macron and far-right populist Marine Le Pen provided political theater, even moments of high drama in pitting two opposing visions of France.
Macron's performance, in particular, was being closely watched. One of the big surprises of the election has been the success of the former economics minister's new-look campaign, positioning himself as a centrist alternative to France's traditional left-right politics.
But Le Pen, the anti-immigration, anti-European Union leader of the National Front, was looking for opportunities to pounce. With polls suggesting that she and Macron could be direct rivals in the decisive May 7 runoff of the two-round election, both sought to score points against each other.
As Macron was discussing foreign policy, Le Pen portrayed him as wishy-washy, muttering: "It's empty, completely empty.""We don't know what you want," she said.
Macron proved during the three-hour evening debate that overran and spilled past midnight that he can defend himself. With limited experience of public office, he sought to portray himself as presidential and hard to push around.
Some of the most heated exchanges centered on the place of religion in France and the separation of church and state.
Macron reacted vigorously when Le Pen accused him of being in favor of Muslim swimwear — essentially suggesting that her rival isn't really committed to France's secular values and policies.
"I don't need a ventriloquist," he retorted. "When I have something to say, I say it clearly." He, in turn, accused Le Pen of using Islam to divide the French. Le Pen wants all visible religious symbols worn by people, including Muslim headscarves and Jewish kippahs, banned from public.
"The trap you are falling into, Madame Le Pen, with your provocations is to divide society," Macron said.