Haiti holds long-delayed presidential elections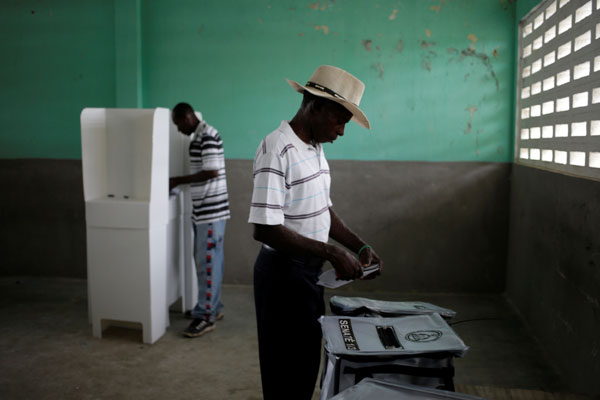 A man casts his vote at a polling station in Port-a-Piment, Haiti, November 20, 2016. [Photo/Agencies]
SANTO DOMINGO -- More than 6 million Haitians were eligible to vote in Sunday's general elections, after months of delay and a devastating hurricane that added to the country's woes.
Voting went generally smoothly, though some incidents were reported, including 18 arrests, reports of fraud, and the seizure of several vehicles and a few weapons, the Haiti Libre daily reported.
The vote count was expected to take 10 days, and preliminary results for the presidential and legislative votes are expected to be released on Dec. 1 and 2, the newspaper said, citing the Provisional Electoral Council (PEC).
At a press conference before polls were closed, PEC President Leopold Berlanger said voting was going well, "without major incidents, without serious violence, without disturbance of polling and no tension in the streets."
Initially postponed by political turmoil, elections were pushed back yet again by Hurricane Matthew, which devastated southern Haiti, leading officials to call off an Oct. 9 poll.
In the southern province of Grande Anse, the worst hit by the hurricane, most polling centers still housed people made homeless by flooding.
Ruling party candidate Jovenel Moise and his opposition rival Jude Celestin led a field of 27 presidential candidates.