France's center-right parties hold primary to pick presidential candidate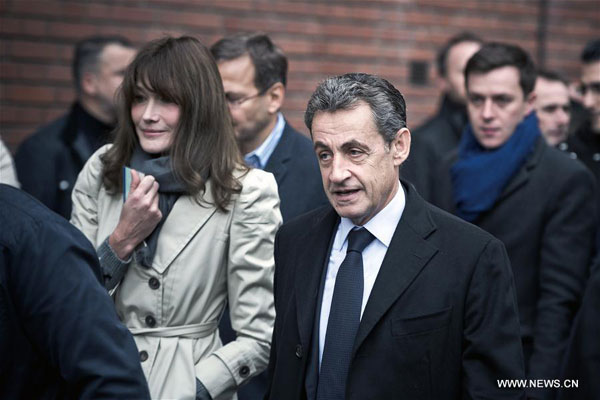 Ex-president Nicolas Sarkozy (R, Front) arrives to vote at his poll booth during the French right wing party "Les Republicains" Primaries as he is running for candidacy for the 2017 Presidential Election in Paris, France, Nov 20, 2016. [Photo/Xinhua]
PARIS - France's opposition, the center-right parties, started voting in the first round of the primary Sunday to pick their candidate to run in the presidential elections next year.
About 2.8 million conservative voters are expected to cast their ballots from 8 am to 7 pm local time (0700 GMT to 1800 GMT) on Sunday in 10,228 polling stations across the country.
Voters will choose between seven contenders with two frontrunners -- former premier Alain Juppe and ex-president Nicolas Sarkozy.
Enjoying fast-growing support just days before the vote, former prime minister Francois Fillon, in third place, narrowed the gap for the presidential nomination, making the three men neck and neck.
Other competitors for the primary include former agriculture minister Bruno Le Maire, ex-ecology minister Nathalie Kosciusko-Morizet, former president of the conservative party UMP Jean-Francois Cope, and head of the Christian Democratic Party Jean-Frederic Poisson.
The top two winners of the first round of the primary on Sunday will compete in the second round of the primary scheduled on Nov 27, unless one of the seven contenders collects more than 50 percent of the votes in the first round and will directly be nominated as the presidential candidate.
The center-right candidate will face a Socialist candidate and Marine Le Pen, head of the far-right National Front party, during the presidential race next year.
According to pollsters, the center-right candidate has a big chance of winning the election, due to a deep division within the left parties and the public's general dislike of far-rightists.