At least 90 dead in Indian train derailment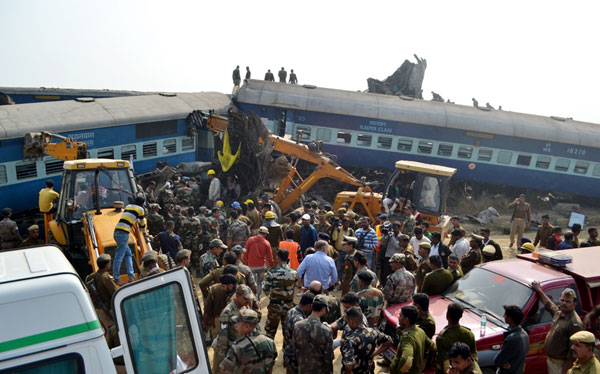 Rescue forces work at a train accident site near Kanpur in Uttar Pradesh, India, Nov. 20, 2016. [Photo/Xinhua]
NEW DELHI - In one of the worst railway tragedies in India in recent years, at least 91 people were killed and more than 150 others injured after an express train derailed in the northern state of Uttar Pradesh early Sunday morning.
"The mishap took place around 3:30 a.m. (local time) near Pukhrayan, close to the town of Kanpur in Uttar Pradesh. Some 14 coaches of the Indore-Patna Express ran off the tracks at a time when most of the passengers were asleep," a senior railway official said.
While 91 bodies have been pulled out of mangled coaches so far, those injured were admitted to hospitals across Kanpur, where the conditions of many are said to be serious, the official said, on condition of anonymity.
The Indore-Patna Express, which is the only bi-weekly train that runs from the central state of Madhya Pradesh to the eastern state of Bihar's capital Patna, was on its way to Patna when the fatal accident took place.
Local TV channels showed footage of mangled coaches piling up against each other on railway tracks and rescuers trying to cut through the windows using gas-cutters to get through to rescue trapped passengers, including the elderly and women.
Reports also said that Indian Army and Indian Air Force doctors have been pressed into service to comfort and treat the injured passengers at the accident site, while private buses are being used to ferry passengers and help them complete their journey.
Witnesses spoke of being woken up by a huge bang and being thrown around. "We woke up to a great thud this morning. It was pitch dark and the noise was deafening. Luckily I survived," Sunil Rai, a passenger, was quoted as saying.