The storm weakens but still packs enough punch to claim at least 11 lives in US
Hurricane Matthew slammed into South Carolina on Saturday, packing a diminished yet still potent punch after killing almost 900 people in Haiti and causing major flooding and widespread power outages as it skirted Florida and Georgia.
Weakened, the most powerful Atlantic storm since 2007 unleashed torrential rains and damaging winds in Florida before churning slowly north to soak coastal Georgia and the Carolinas. Wind speeds at midday had subsided by nearly half from their peak about a week ago to 120 kph, reducing the storm to a Category 1 hurricane, the weakest on the Saffir-Simpson scale of 1 to 5.
Matthew, which topped out as a ferocious Category 5 storm days before, made US landfall near McClellanville, South Carolina, a village 48 kilometers north of Charleston that was devastated by a Category 4 hurricane in 1989.
The National Hurricane Center in Miami said the storm was expected to move near or south of the North Carolina coast early on Sunday and east of the state later in the day.
The storm was blamed for at least 11 deaths in the United States - five in Florida, three in North Carolina and three in Georgia, including two people killed by falling trees in Bulloch County, the county coroner said.
2 million without power
Power was reported knocked out to more than 2 million households and businesses in the southeastern US, the bulk of those in Florida and South Carolina.
Forecasters warned that widespread flooding was possible from heavy rain - 400 millimeters was expected to fall in some areas - along with massive storm surges and high tides.
The storm-stricken stretch of the Atlantic Coast from Miami to Charleston, 950-km drive, encompasses some of the most well-known beaches, resorts and historical towns in the southeastern United States. Parts of Interstate 95, the main north-south thoroughfare on the East Coast, were closed due to flooding and fallen trees, state officials said.
"We rode out the storm. It wasn't this bad at our house, but here there's a lot of damage," said Zowi Cuartas, 18, as he watched bystanders pick up shattered signs near the beach.
Florida Governor Rick Scott said more than 6,000 people stayed in shelters overnight, but he appeared relieved that the state had been spared from greater harm.
"We're all blessed that Matthew stayed off our coast," he said. He predicted electricity would be restored to most homes by Sunday evening.
Damage was far greater in Haiti, where at least 877 people died earlier when the storm plowed directly into the impoverished Caribbean island nation.
Matthew howled through Haiti's western peninsula on Tuesday with 233 kph winds and torrential rain. Some 61,500 people were in shelters, officials said, after the storm lashed coastal villages in high surf.
The US military began sending aid to Haiti by air and sea, including a Navy amphibious transport ship carrying heavy-lift helicopters, bulldozers, freshwater delivery vehicles and two mobile surgical units.
The Haitian government warned that a deadly outbreak of cholera could worsen, confirming dozens of new cases of the waterborne disease since the storm hit, 13 of them fatal.
Officials in Florida, grappling with an outbreak of Zika, said they hoped the flooding would not worsen the spread of the mosquito-borne virus, which can cause fever and birth deformities.
"We have got to get rid of standing water as quickly as we can," Governor Scott told reporters.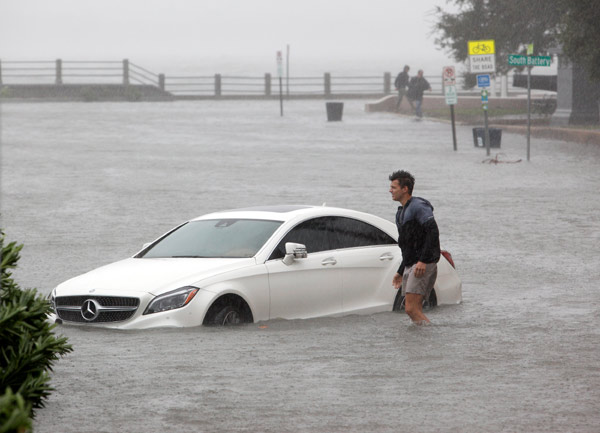 A resident wades through floodwaters next to a partially submerged car in the hard-hit city of Charleston, South Carolina, on Saturday.Jonathan Drake / Reuters