Top violinist in tune with herself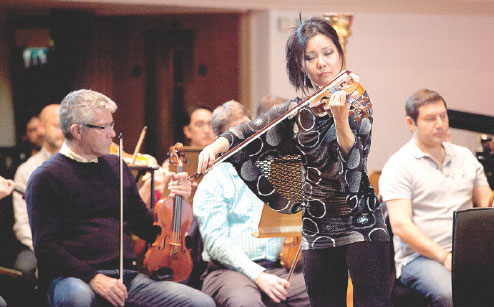 Susanne Hou rehearses with the Royal Philharmonic Orchestra in London. [MYCHAYLO PRYSTUPA/CHINA DAILY]
Dashing to London's Heathrow Airport via a last-minute appointment at the BBC, Susanne Hou clutches a suitably anonymous and well worn canvas violin case containing a 1735 instrument by the Italian master Giuseppe Guarneri del Gesu.
"I always like to have it where I can see it," she says.
Only concert hall superstars get to play on such treasures and Shanghai-born Yi-Jia Susanne Hou is such a star.
Raised in Canada by Chinese parents, Hou has been performing in public for 33 of her 38 years. Her prodigious talent took her to the Julliard School in New York. And the subsequent winning of three prestigious violin competitions in France, Italy and Spain launched her career on the world concert circuit, as she embarked on a hectic schedule that would take her to more than 50 countries. She has been back to China six or seven times, but knows Europe and North America better.
Hou has performed with the world's greatest orchestras and received accolades from some of its most legendary figures. The late violin maestro Yehudi Menuhin said of her:"Playing such as this, flawless, filled with light and meaning, makes you feel shy, as if you were witnessing a miracle."
Hou was in London for the performance of a work that, for her, is deeply personal. At Cadogan Hall at the weekend, she was the soloist, alongside the Royal Philharmonic Orchestra, in a performance of The Butterfly Lovers violin concerto. The work by Chen Gang and He Zhanhao premiered in 1959 in Shanghai where Hou's musician parents attended the same Shanghai Conservatory as the composers.
"I grew up with the melodies of the Butterfly as my parents were always singing them around the house," Hou recalls.
The work draws on a 4th century love story that is as familiar to the Chinese as Romeo and Juliet is to the English.
"On Sunday, there was an extraordinary vibrance in the hall," says Hou. "Many in the audience were young students from the Chinese community."
She left Shanghai at the age of three and retains a single flashback of her birthplace.
"It was a terrifying bike ride in the basket of my father's bike!"
Among her musical favorites are Brahms, Shostakovich, and Schubert.
"Sometimes, I get lost in Dvorak. And Mozart, if I leave him too long, it weighs on my soul."
Hou performs about 100 times a year but sees her playing as more than entertainment.
"I don't want to call it a mission, but Butterfly, for example, is a way to connect with the world and our countries through music."
She also sets great store by the next generation of artists who, after spending thousands of hours studying, do not always know what to do next.
"They need guidance and mentoring and not just from within the musical world."