Human remains, belongings found from EgyptAir crash at sea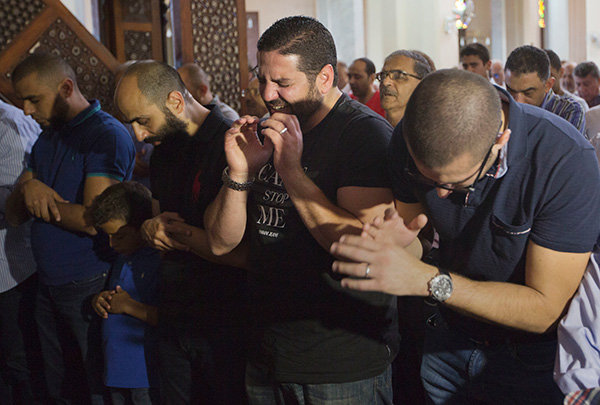 Egyptian film director Osman Abu Laban (center), who lost four relatives in Thursday's EgyptAir plane crash, attends prayers for the dead at a mosque in Cairo on Friday. Egyptian air and naval forces said they have found passengers' personal belongings and debris from the plane that crashed in the Mediterranean Sea with 66 passengers and crewmembers on board. AMR NABIL / ASSOCIATED PRESS
Family of pilots
Khaled al-Gameel, head of crew at EgyptAir, said the pilot, Mahamed Saeed Ali Shouqair, had 15 years' experience and was in charge of training and mentoring younger pilots.
"He comes from a pilot family; his uncle was a high-ranking pilot at EgyptAir and his cousin is also a pilot," Gameel said. "He was very popular and was known for taking it upon himself to settle disputes any two colleagues were having."
A Facebook page that appeared to be Shouqair's included criticism of the Muslim Brotherhood, repostings of articles supporting President Sisi and pictures of Shouqair wearing aviator sunglasses.
Two former senior crash investigators said the list of possible causes remained wide open and noted there had been cases where deliberate action had been suspected wrongly.
In 1996, a terrorism probe was launched after a TWA jumbo jet crashed off Long Island, New York, on the east coast of the United States, but investigators later found it had probably been brought down by a fuel tank explosion.
The EgyptAir plane that crashed Thursday was carrying 56 passengers, including one child and two infants, and 10 crew. They included 30 Egyptian and 15 French nationals, along with citizens of 10 other countries. The aircraft had made scheduled flights to Tunisia and Eritrea on Wednesday before arriving in Paris from Cairo.