EgyptAir hijacker arrested at airport: Cypriot FM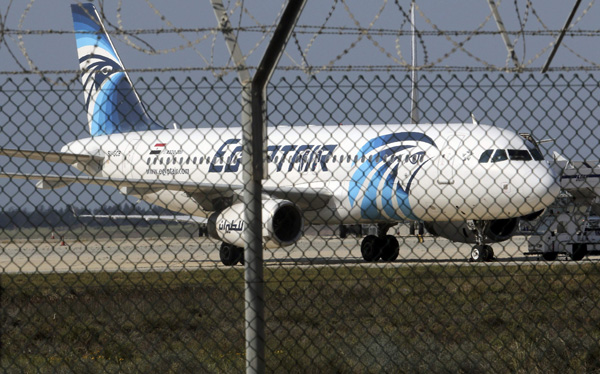 A hijacked Egypt Air A320 airbus stands on the runway at Larnaca Airport in Larnaca, Cyprus , March 29, 2016. [Photo/Agencies]
The man who hijacked an EgyptAir plane flying between Alexandria and Cairo and ordered the pilot to divert to Larnaca in Cyprus has been arrested, according to the Cypriot foreign ministry and the airline.
The hijacker emerged from the aircraft with his hands in the air, Cyprus state TV said.
"Its over," Cyprus's foreign ministry said in a tweet.
Egyptian Civil Aviation Minister Sherif Fathy said that all passengers and crew members of the hijacked plane were released after the hijacker was arrested by Cypriot authorities.
Egyptian Prime Minister Sherif Ismail said the hijacker was an Egyptian national. Ismail told reporters that authorities would question the hijacker to ascertain his true motives, which remained a mystery.