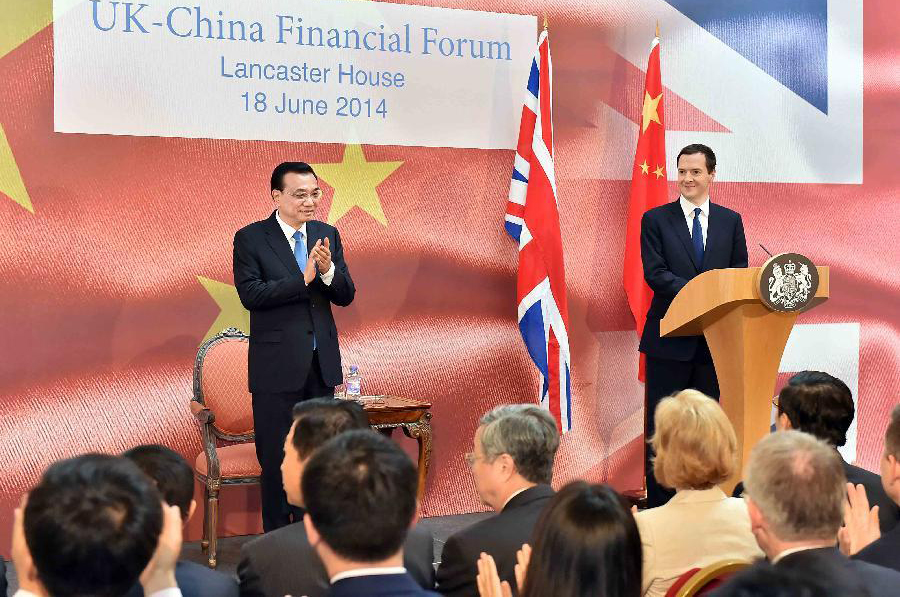 Chinese Premier Li Keqiang (L) and British Chancellor of the Exchequer George Osborne attend the UK-China Financial Forum in London, capital of Britain, June 18, 2014. [Photo/Xinhua]
LONDON - Visiting Chinese Premier Li Keqiang said here Wednesday that China and Britain will work together to lift the bilateral financial cooperation to a new height.
Li made this remark during a speeh at the Britain-China Financial Forum, co-hosted by the People's Bank of China and British Finance Ministry.
In recent years, both countries have seen a closer and more accelerating collaboration in financial sector, which has become a spotlight of the mutual cooperation between the two countries, said the premier.
London has become one of the most important offshore RMB markets outside Asia, Li noted.
By setting up a RMB clearing bank, the two countries realized direct trade between RMB and the Great British pound (GBP), which is conducive to completing the market infrastructure, reducing transaction costs and exchange risks, and facilitating the development of mutual investment and trade, said Li.
Li noted that China will deepen its financial reform and opening up, remove unreasonable policy barriers, and provide necessary and fundamental services for the financial and economic collaboration and development at home and abroad.
Meanwhile, China is accelerating the interest rate liberalization reform, expanding the floating range of RMB's exchange rate, and easing threshold for private capital into the financial industry, said Li.
"China will also further expand the opening up in service sectors, including the financial sector," added Li.
Li stressed that the two financial industries are highly complementary and embracing new cooperation opportunities.
He hoped the two sides could further strengthen communication based on the spirit of openness, mutual benefit, practicability and cooperation, promote bilateral financial cooperation and inject strong impetus to the comprehensive strategic partnership between China and Britain.
For his part, George Osborne, Britain's Chancellor of the Exchequer, said in his speech that financial cooperation is an important part of China-Britain cooperation, which has already achieved positive progress in recent years.
By setting up RMB clearing bank in London and initiating RMB-GBP direct trading, the two countries could boost their financial cooperation to a new height, and greatly promote bilateral trade and investment cooperation, said the chancellor.
Britain is willing to further enhance the cooperation with China and expect RMB to play a greater role in the international monetary system, he said.
The Chinese premier is in London for an official visit to Britain. His ongoing two-nation Europe tour will also take him to Greece.
| | | |
| --- | --- | --- |
| | | |
| |  China, Britain issue joint statement, pledge to forward cooperation | |