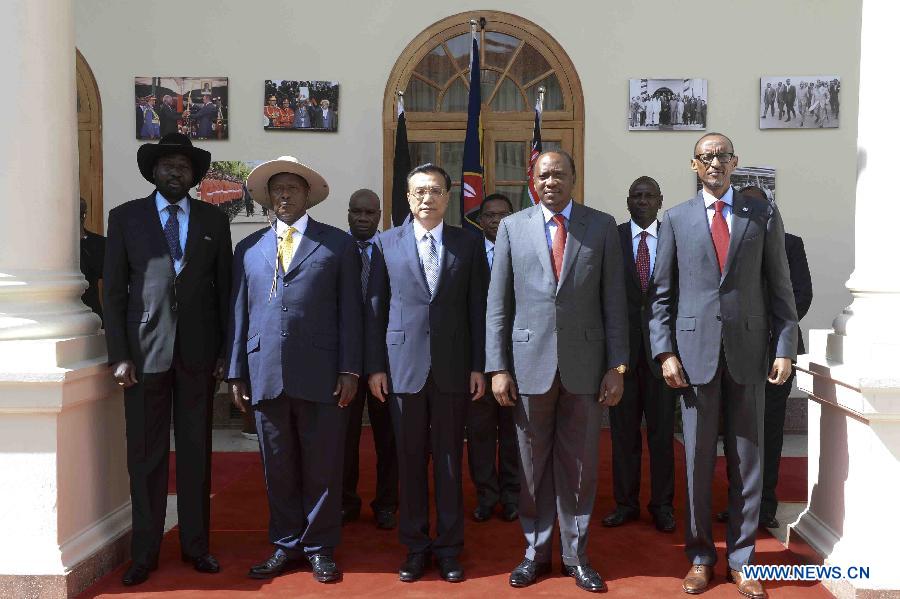 Chinese Premier Li Keqiang (C) poses for a group photo with South Sudan's President Salva Kiir (1st L, front), Ugandan President Yoweri Museveni (2nd L, front), Kenyan President Uhuru Kenyatta (2nd R, front), and Rwandan President Paul Kagame (1st R, front), after the signing ceremony of the Mombasa-Nairobi railway agreement in Nairobi, Kenya, May 11, 2014. [Photo/news.cn]
NAIROBI - China and Kenya signed a co-financing deal on Sunday to build a railway linking Nairobi to Mombasa, a critical infrastructure project to boost regional trade and deepen integration in East Africa.
Visiting Chinese Premier Li Keqiang, together with presidents of Kenya, Uganda, Rwanda and South Sudan as well as representatives from Tanzania, Burundi and the African Development Bank, witnessed the signing of the agreement.
Speaking at the signing ceremony, Li said the presence of the African leaders and their representatives demonstrated African countries' common desire to develop railway network in East Africa.
A country has to improve transportation infrastructure before its economy takes off, Li said, adding that China is ready to share its technology and experience in railway construction with all parties and cooperate with them in project design, construction, equipment, management, personnel training and financing.
The premier said interconnection in East Africa and in Africa at large will fundamentally boost economic development of African countries.
During his Africa tour, Li had said that China is willing to join hands with Africa to build the continent's networks of high-speed railway, expressway and regional aviation. The Mombasa-Nairobi railway is an important part of those networks, he said.
China will improve communication and coordination with countries concerned and the African Union (AU), and at the same time welcome the participation of a third party so as to realize mutual benefits and win-win results, he said.
The East African leaders said at the ceremony that the Mombasa-Nairobi railway will increase transport capacity of East African countries, accelerate interconnection and regional integration of East Africa and boost East African countries' economic development.
Addressing reporters after the ceremony, Li said the building of the railway is a good start, and China is ready to work with Kenya to turn the railway into a model project.
Noting that China has abundant experience and excess capacity in infrastructure construction, Li assured African countries that the Chinese equipments will meet their demand and have guaranteed quality.
He also said that the Chinese companies participating in the project will be asked to take on local people and provide them with training.
"Chinese companies have to abide by local rules and respect local customs during their operations here, and they have to fulfill their due social responsibilities," Li said, adding that China-Africa cooperation is not merely about projects, but also means people-to-people exchanges.
Since China is the world's largest developing country and Africa is the continent with the largest number of developing countries, they are complementary in their advantages and their development offers opportunities to each other, Li said.
The common development of China and Africa will not only benefit a combined population of two billion, but also change the global development pattern, he added.
Speaking to the press, Kenyan President Uhuru Kenyatta and Ugandan President Yoweri Museveni both agreed that the Mombasa-Nairobi railway has significant and far-reaching impact in boosting interconnection and regional integration in East Africa.
The project shows both China's commitment to African development and the great strength of China-Africa solidarity and cooperation, they said.
Kenya is the last stop of Li's four-nation Africa tour, which has already taken him to Ethiopia, Nigeria and Angola.