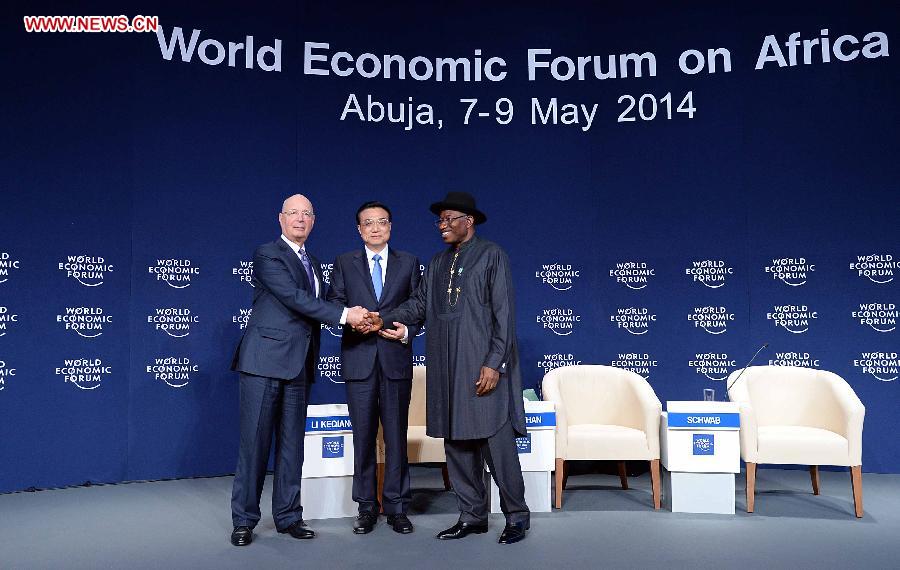 Premier Li Keqiang, accompanied by Nigerian President Goodluck Jonathan and World Economic Forum Executive Chairman Klaus Schwab, greets the audience at the opening of the World Economic Forum on Africa in Abuja, Nigeria, on Thursday. [Photo/Xinhua]
Premier Li Keqiang pledged on Thursday to contribute to connecting all of Africa's capitals by high-speed railways, while offering another $10 billion loan to improve infrastructure on the continent.
He also said China would channel more than half of its international aid to African countries.
Li made the remarks in a keynote speech at the World Economic Forum on Africa, dubbed "Africa's Davos", in Abuja, the Nigerian capital.
The pledge increases China's credit line for African countries to $30 billion.

"Infrastructure construction is a base for developing countries to realize economic takeoff, and we will continuously place it as a priority under our cooperation framework," Li said. "We have found that we should invest our efforts in making Africa a well-connected continent.
Li said the continent covers 23 percent of the world's land area but its length of railways remains at only 7 percent of the world total. Thirteen African countries still have no railways.
He said China and African countries would jointly launch high-speed railway technology research and development centers while cooperating on railway planning, construction and operation.
Li said Beijing would also make every effort to invest in highways and airports, which he believes are of fundamental significance in realizing African dreams.
"After intensive discussion with African leaders, I proposed focusing our infrastructure cooperation on the three big networks (roads, railways and air routes)", within African countries, Li said, adding that African nations have also shown a strong will to cooperate with China on highway construction.
Mike Blades, head of corporate and investment banking for the East African region at Standard Bank Group, said: "Part of Africa's growth constraints is its lack of infrastructure. You have to invest in infrastructure, roads, railways and power. You can't actually invest in massive manufacturing if you haven't a certain level of power supply."
Dr Martyn Davies, chief executive officer of Frontier Advisory, a leading research, strategy and advisory firm that specializes in emerging markets, said, "African states need to move beyond commodity-driven growth."
Davies said that apart from energy, urbanization is another underlying emerging driver of growth.
Li said that in all of the cooperation projects Chinese investors will launch joint ventures with Africa and will "share our high-tech expertise with African friends without any reservations".
He said third parties, including international organizations and other countries, were welcome to join the initiative. "If the African countries agree, we can open our cooperation to others," he said.
The premier also said China would insist on making lasting efforts to help Africans improve health, education and environmental conditions with its increased international aid.
"More than half of our international aid will go to African countries," he said, adding that China would continuously offer help "without any political conditions".
Li arrived in Abuja on Tuesday evening from Ethiopia on the second leg of his four-nation African tour, which also includes Angola and Kenya.
Liu Guijin, a former Chinese special representative on African affairs, said Li is the first Chinese leader to attend a regional WEF summit.
"Premier Li's Africa visit ... will strengthen China-Africa relations and help steer their development in a greener, healthier and more sustainable direction," he said.
Nigeria sees the World Economic Forum on Africa as a way to promote the country as a place to do business and to reflect its growing global clout.
However, the event has been overshadowed by recent terrorist attacks and kidnappings by the Islamic militant group Boko Haram.
Nigerian President Goodluck Jonathan told Li during their meeting on Wednesday that many people have avoided visiting Nigeria because of security concerns.
Dr Vladimir Antwi-Danso, a senior lecturer at the Legon Center for International Affairs and Diplomacy at the University of Ghana, said Li's African visit would give China the opportunity to see if it could help the continent.
"Africa should prepare itself for China," he said.
Contact the writers at fujing@chinadaily.com.cn, lilianxing@chinadaily.com.cn and lixiaokun@chinadaily.com.cn.