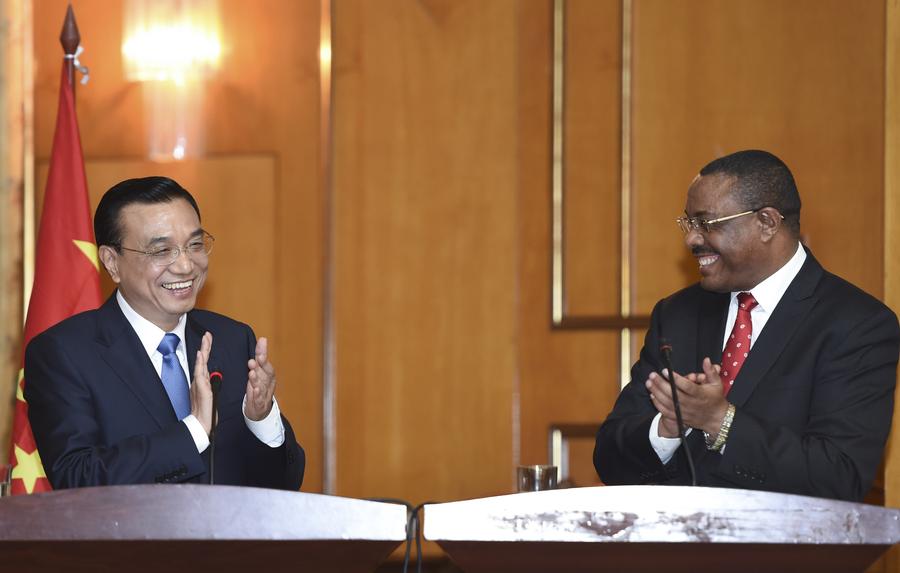 Chinese Premier Li Keqiang (L) and Ethiopian Prime Minister Hailemariam Desalegn meet press after their talks in Addis Ababa, Ethiopia, May 4, 2014. Li started an Africa tour on Sunday with his arrival in Ethiopia, where he will also visit the headquarters of the African Union (AU). [Photo/Xinhua]
ADDIS ABABA - Visiting Chinese Premier Li Keqiang said here Sunday that China hopes to deepen friendly cooperation with Africa as the two have closely-linked destinies.
Li made the remarks when meeting the press together with his Ethiopian counterpart Hailemariam Desalegn after their talks.
At the current stage, China's relations with Ethiopia and Africa at large are both moving along the right track, said the Chinese leader.
On China-Africa ties, Li said, first, the two sides share closely-linked destinies.
China and Africa have always supported each other and treated each other as equals during the course of national liberalization and construction, Li noted, adding that "we believe Africa deserves an important place and should have an important role in the international political landscape."
Second, China and Africa are in pursuit of common development, Li said.
China is the world's largest developing country and Africa is the continent with the highest ratio of developing countries. The cooperation between the two will not only bring about mutually beneficial and win-win results, but also help promote world economic balance and inclusive growth, Li said.
Third, he said China and Africa are mutual-learning civilizations.
Both are time-honored civilizations with brilliant cultures, Li said, adding that mutual respect and learning between civilizations and cultures is conducive to diversity of world civilizations and multi-polarization.
China is ready to work with Ethiopia and all other countries in Africa to make sure China-Africa relations are accelerating on the right track so as to benefit China and Africa as well as the whole world, he said.
For his part, Hailemariam said Africa and China share a common destiny.
The relations between Ethiopia and China, and between Africa and China are always built on mutual trust, mutual understanding, mutual benefit and equal footing, and their cooperation in various fields has achieved fruitful results and enjoys great potential, he said.
Enhancing cooperation between Africa and China will not only merit their own development, but also help promote the world's multi-polarization process, he said.
He also expressed his belief that Li's Africa tour will bring greater development to the Ethiopia-China and Africa-China ties.
Ethiopia is ready to learn from China's development experience and continue to deepen bilateral strategic cooperation in the fields of politics, international affairs, economy and people-to-people exchange, so as to uplift the bilateral comprehensive cooperative partnership to a higher level, he said.