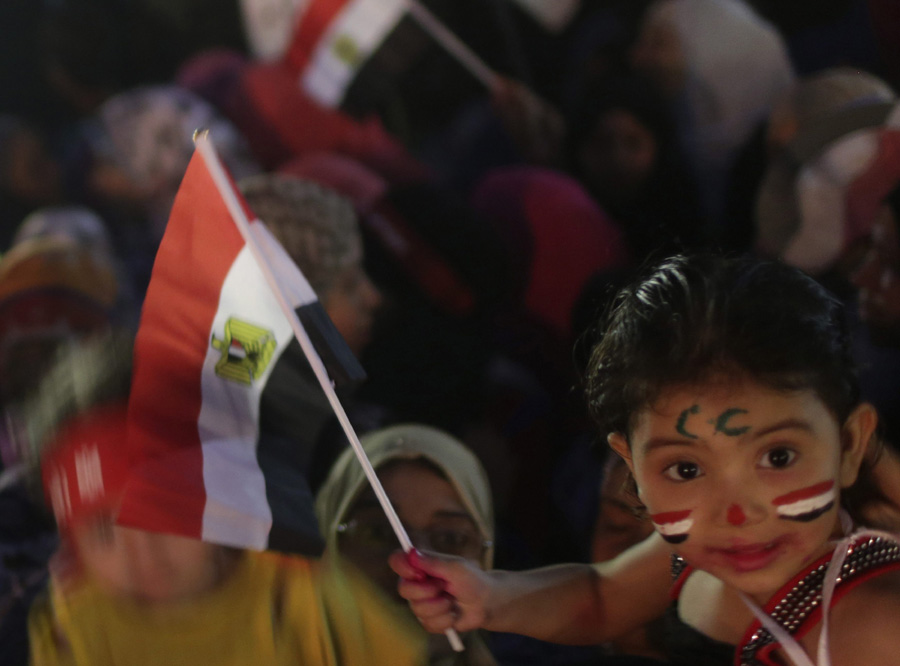 A child waves an Egyptian flag on the third day of voting in Egypt's presidential election in Shubra El-Kheima, near Cairo, May 28, 2014. [Photo/Agencies]
CAIRO - Initial poll count on Wednesday shows that Egypt's former military chief Abdel Fattah al-Sisi will sweep the presidential election with an overwhelming majority of votes.
Sisi's campaign team was quoted by the state Nile TV as saying that he has garnered about 93.3 percent of the ballots from 2,000 polling stations that were counted.
Sisi has already won more than four million votes, while his sole rival leftist Hamdeen Sabahy received about 133,000, the reports said.
Popularity of the 59-year-old former military chief has surged since the military toppled former Islamist President Mohamed Morsi last July in what the latter's supporters claimed to be "a military coup". Harsh security crackdown has left hundreds of protesters dead and thousands of others arrested.
Sisi was expected to trounce Sabahy in the three-day presidential election that wrapped up on Wednesday night. The count process started nationwide soon after all the 14,000 polling stations were closed.
Voting was previously scheduled for Monday and Tuesday, but the election commission announced on Tuesday afternoon to extend the polls for one day. The sudden move has drawn criticisms and raised questions over the "justice" of the election.
The commission said the decision was to "give a chance to the largest number of people to participate the polls." Critics, however, said it was for Sisi to get a decisive show of support as he needs a strong turnout to prove his popular backing across Egypt.
Sisi's supporters have begun celebrating in Cairo, with hundreds of them gathering at the central Tahrir square, a symbolic place of "democracy" for the Egyptians.