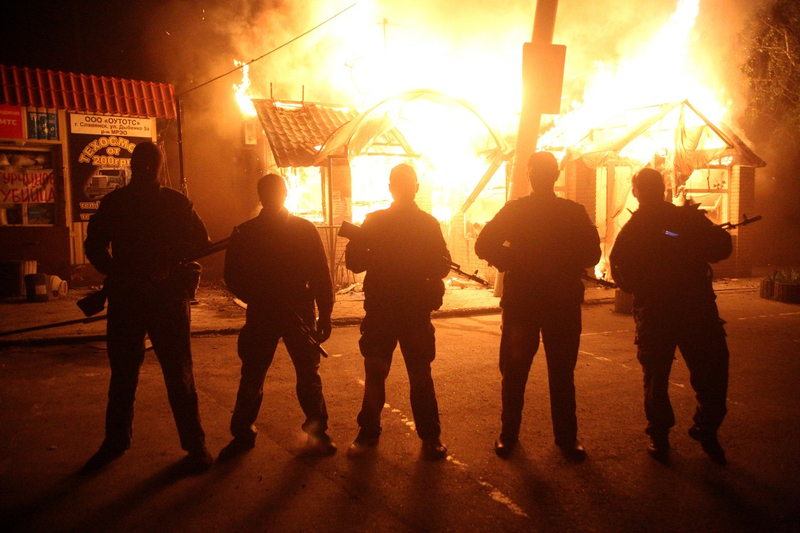 Pro-Russian fighters pose in front of a burning cafe after impact of a mortar bomb, during fighting between Ukrainian government troops and pro-Russian militants at a checkpoint near the major highway which links Kharkiv, outside Slovyansk, Ukraine,  May 22, 2014. Three days before Ukraine holds a presidential vote, pro-Russia insurgents attacked a military checkpoint Thursday in eastern Ukraine, killing at least 13 troops and wounding 30 others in the deadliest raid yet in weeks of fighting. [Photo/IC]
KIEV, May 22 - At least 13 Ukrainian soldiers have been killed in a rebel attack at a Ukrainian military checkpoint in the eastern Donetsk region early Thursday, the country's acting President Alexandr Turchynov said.
"Our troops defended the town of Volnovakha and have not allowed insurgents to break through defenses, but unfortunately, our soldiers sacrificed their lives for Ukraine, tolerating mortar fire and heavy weapon fire," Turchynov said during his meeting with local religious figures.
Earlier in the day, the country's Defense Ministry had said heavy casualties were expected after insurgents attacked the checkpoint with rocket-propelled grenades and mortars, causing a Ukrainian armored vehicle to ignite and triggering a massive explosion.
The incident comes just three days before the presidential election in Ukraine scheduled for May 25, triggering fears of possible disruption of the vote in the eastern part of the country.
According to the Central Election Committee, as of Thursday afternoon, 18 of 34 regional election commissions in Lugansk and Donetsk regions were blocked by separatists, who seek independence from the central government in Kiev.