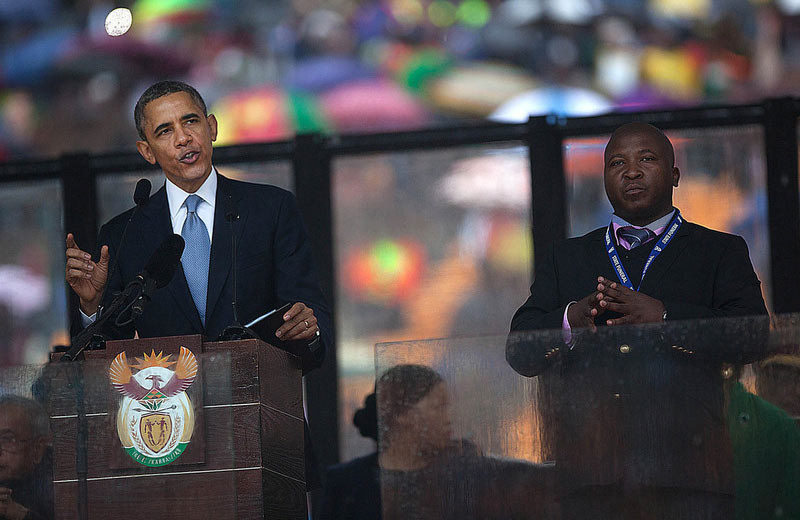 US President Barack Obama stands before making a speech alongside a man passing himself off as a sign language interpreter (R) during a national memorial service for former South African President Nelson Mandela at the First National Bank (FNB) Stadium, also known as Soccer City, in Johannesburg, in this still image taken from video shot December 10, 2013. [Photo/icpress.cn]
JOHANNESBURG — The sign-language interpreter on stage at Nelson Mandela's globally broadcast memorial service was a faker who was just waving his arms around meaninglessly, advocates for the deaf said Wednesday.
The unidentified man seen around the world on television next to leaders including United States President Barack Obama "was moving his hands around but there was no meaning in what he used his hands for," Bruno Druchen, the federation's national director, told The Associated Press.
The allegation was yet another example of bad organization at the historic memorial service Tuesday, which was marred by public transportation breakdowns that hindered mourners from getting to the soccer stadium venue. In addition a faulty audio system made the remarks of world leaders inaudible for many. Police also failed to search the first wave of crowds who rushed inside the stadium after authorities opened the gates just after dawn.
Collins Chabane, one of South Africa's two presidency ministers, said the government is investigating the matter but has not finished yet because it has been overwhelmed with work organizing public viewing of Mandela's body in the South African capital of Pretoria and his funeral Sunday in his hometown of Qunu. He added the "government will report publicly on any information it may establish."
Four sign language experts, including Druchen, said the man was not signing in South African or American sign languages and could not have been signing in any other known sign language because there was no structure to his arm and hand movements. South African sign language covers all of the country's 11 official languages, according to the federation.
Ingrid Parkin, principal of the St. Vincent School for the Deaf in Johannesburg, said she's received complaints from the deaf community from Canada to China about the man on stage and that his movements look "like he's signing gibberish." He also used no facial expression to convey the emotions of the leaders, a key element of sign language interpretation.
"This man himself knows he cannot sign and he had the guts to stand on an international stage and do that," Parkin said.
Nicole Du Toit, an official sign language interpreter who also watched the broadcast, said in a telephone interview that the man on stage purporting to sign was an embarrassment.
"It was horrible, an absolute circus, really, really bad," she said. "Only he can understand those gestures."
The man also did sign interpretation at an event last year that was attended by South African President Jacob Zuma, Druchen said. At that appearance, a deaf person in the audience videotaped the event and gave it to the federation for the deaf, which analyzed the video, prepared a report about it and a submitted a formal complaint to the ANC, Druchen said.