Red Star pulls plug on Keenan after just eight months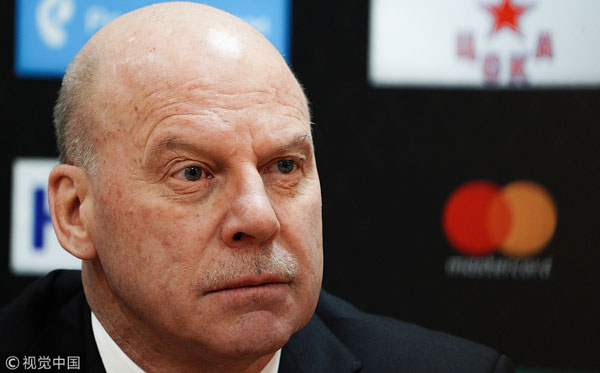 Kunlun's head coach Mike Keenan during the press conference after the Kontinental Hockey League's regular season match between CSKA Moscow and Kunlun Red Star Beijing, Nov 29, 2017. [Photo/VCG]
Just eight months after being hired, Mike Keenan was fired as head coach of Shanghai-based Kunlun Red Star on Sunday.
Hours later, with interim replacement Bobby Carpenter behind the bench, China's lone entry in the Russia-based Kontinental Hockey League ended a nine-game losing streak with a 4-3 overtime win at Amur - after blowing a 3-0 lead.
Carpenter, 54, who Keenan hired as an assistant after taking the reins in March, played 1,178 games in the NHL and won three Stanley Cups with the New Jersey Devils, including two as an assistant bench boss.
The 68-year-old Keenan was hired as head coach and general manager a month after being named an executive member of Red Star's international advisory board, which also includes NHL legend Phil Esposito.
Keenan managed to squeeze just 12 wins from Red Star's first 36 games this season, after the club made the playoffs as a KHL expansion team last season.
His last victory - on Oct 31 - was his 100th in the KHL.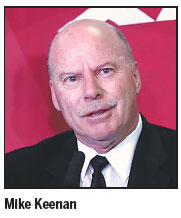 Known for his tough, no-nonsense approach, Keenan won 672 NHL games to rank No 9 on its all-time list, and he helmed the New York Rangers to the 1994 Stanley Cup.
He also won two Canada Cup global championships with the likes of NHL legends Wayne Gretzky and Mario Lemieux.
In April 2014, Keenan guided Metallurg Magnitogorsk to the KHL's Gagarin Cup championship, becoming the only coach to win titles in both of the world's top professional leagues.
He was fired by Metallurg six months later.
When he joined Red Star, Keenan outlined a long-term vision.
"I'm very excited about having an opportunity to contribute to building Chinese hockey at every level, from the grassroots to the national teams," he said.
"In Canada, hockey is like our national religion because it emphasizes many of the things we hold dear, like teamwork, sacrifice and creativity. I think the same holds true in China ... and hockey is a natural showcase for them."
murraygreig@chinadaily.com.cn