World leaders pressure Obama over Syria at G20 summit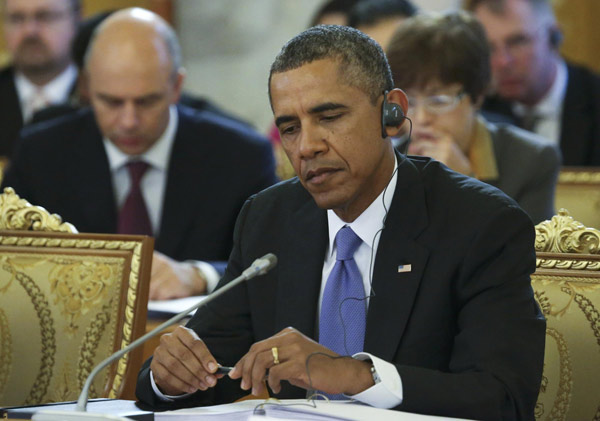 US President Barack Obama attends the first working session of the G20 Summit in Constantine Palace in Strelna near St. Petersburg, September 5, 2013.[Photo/Agencies]
LOSS OF HARMONY
The G20 achieved unprecedented cooperation between developed and emerging nations to stave off economic collapse during the 2009 financial crisis, but the harmony has since waned.
Member states are at odds as the US recovery gains pace, Europe lags, and developing economies worry about the impact of the Federal Reserve's plans to stop a bond-buying program that has helped kick-start the US economy.
"Our main task is returning the global economy towards steady and balanced growth. This task has unfortunately not been resolved," Putin said. "Therefore systemic risks, the conditions for an acute crisis relapse, persist"
The BRICS agreed to commit $100 billion to a currency reserve pool that could help defend against a balance of payments crisis, although the mechanism will take time to set up.
There is likely to be an agreement on measures to fight tax evasion by multinational companies at the summit in the spectacular, 18th-century Peterhof palace complex, built on the orders of Tsar Peter the Great.
An initiative will be presented on refining regulation of the $630-trillion global market for financial derivatives to prevent a possible blow-up.
Steps to give the so-called "shadow banking" sector until 2015 to comply with new global rules will also be discussed.