World leaders pressure Obama over Syria at G20 summit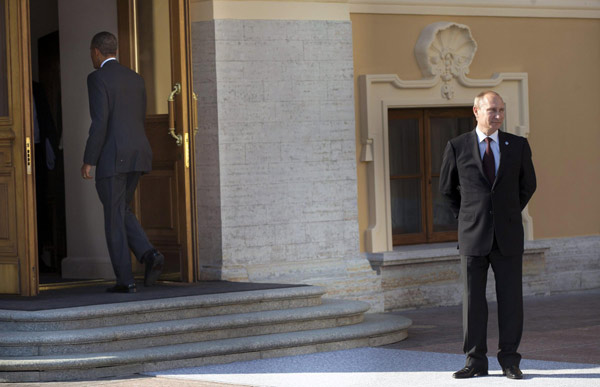 US President Barack Obama (L) walks into Konstantin Palace after shaking hands with Russia's President Vladimir Putin during arrivals for the G20 summit in St. Petersburg September 5, 2013. [Photo/Agencies]
ST PETERSBURG, Russia - US President Barack Obama faced growing pressure from Russia's Vladimir Putin and other world leaders on Thursday to decide against launching military strikes in Syria, which many of them fear would hurt the global economy and push up oil prices.
At a summit of the Group of 20 (G20) developed and developing economies in St Petersburg, Putin greeted Obama with a thin smile and a businesslike handshake, a clear sign of the strains between them over how to respond to an alleged chemical weapons attack in Syria.
Obama also wore a stiff smile before talks began over dinner on the world economy and then on Syria, and there was none of the arm clutching or hugs between the two presidents that is typical of such occasions.
The rift over Syria overshadowed the discussions on how to revive growth but not before splits emerged within the group over a US plan to wind down an economic stimulus program. The G20 accounts for two thirds of the world's population and 90 percent of its output.
The first round at the summit went to Putin, as China, the European Union, the BRICS emerging economies all warned of the dangers of military intervention in Syria without the approval of the UN Security Council.
"Military action would have a negative impact on the global economy, especially on the oil price - it will cause a hike in the oil price," Chinese Vice Finance Minister Zhu Guangyao said.
United Nations Secretary-General Ban Ki-moon later told the leaders over the dinner in a tsarist-era seafront palace that any military action must have the Security Council's backing.
"Let us remember: every day that we lose is a day when scores of innocent civilians die," his office quoted him as saying. "There is no military solution."
Obama blames forces loyal to Syrian President Bashar al-Assad for the August 21 poison gas attack in the Damascus suburbs that killed up to 1,400 people. Moscow says Obama has not proven that claim and says rebel forces may have carried it out.
In New York, US Ambassador to the United Nations Samantha Power left no doubt that Washington had given up trying to work with the UN Security Council over the attack.
She said there was "no viable path forward in this Security Council" and accused Russia of holding it hostage. Moscow has signaled it would veto any resolution on the use of force unless Washington produced stronger proof.
Obama has asked the US Congress to approve military action and France has said it is ready to support US intervention.
Showing he was undeterred by the criticism, Obama said before talks with Japan's prime minister on the sidelines of the summit that using chemical arms was "not only a tragedy but also a violation of international law that must be addressed."
Aides said he would set out his views at the leaders' dinner and hoped to build support for military action, although they acknowledged a consensus might be hard to find.
Long after midnight, there was still no word from officials on how the dinner discussion had gone.
Putin was isolated on Syria at a Group of Eight meeting in June, the last big summit of world powers, but could now turn the tables on Obama, who recently likened him to a "bored kid in the back of the classroom" who slouches at meetings.
Putin's press secretary, Dmitry Peskov, portrayed the "camp of supporters of a strike on Syria" as divided, and said: "It is impossible to say that very many states support the idea of a military operation."
German Chancellor Angela Merkel saw no chance of agreement between Putin and Obama on Syria. US-Russian ties have long been strained by political differences but went into free fall when Russia harbored Edward Snowden, a former spy agency contractor who leaked details of US intelligence programs.
Any G20 decision on Syria would not be binding but Putin would like to see a consensus to avert military action in what would mark a significant - but unlikely - personal triumph for the Russian leader.