Huge crowds rally in Egypt, political talks stalled
Need for political progess
In Alexandria, where 14 people died on Friday, clashes broke out again, but there were no im
media
te reports of casualties.
The violence across the Arab world's most populous state saw rival factions fighting, throwing rocks and clashing with soldiers amid sporadic gunfire in Cairo and others cities.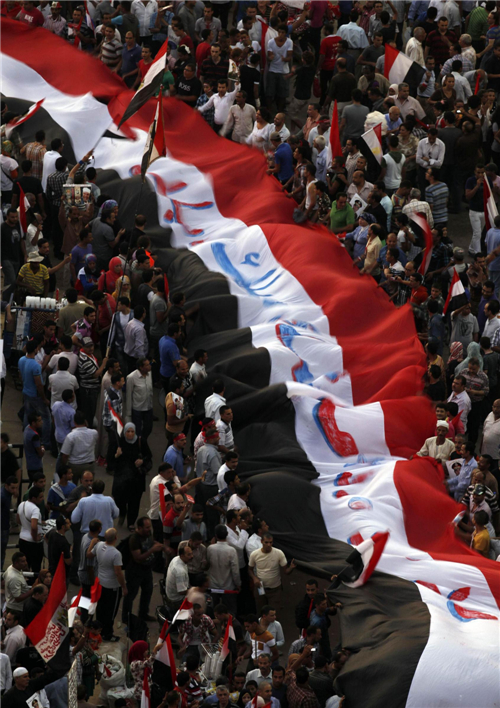 Protesters who are against deposed Egyptian President Mohamed Morsi hold Egypt flags and shout slogans at Tahrir square in Cairo, July 7, 2013. [Photo/Agencies]
Egypt's allies in the West, including main aid donors the United States and the European Union, and in Israel, with which Egypt has had a US-backed peace treaty since 1979, have looked on with increasing alarm.
The chaos underlined the pressing need for a swift and inclusive political solution. Liberals and conservatives disputed on Sunday over the choice of interim prime minister.
The transitional authorities had been set to appoint liberal politician Mohamed ElBaradei, a favourite of young anti-Morsi protest leaders, before his candidacy was scuppered on Saturday when the hardline Islamist Nour Party objected.
On Sunday, the administration said the Oxford-educated lawyer, Social Democrat Ziad Bahaa el-Din, was its most likely choice, with ElBaradei as deputy president. But again Nour said no, raising fears of a prolonged deadlock.
"Both are from the same party, the National Salvation Front. This is rejected," Nour Party's leader Younes Makhyoun told Reuters.
Nour, the Brotherhood's rival for the Islamist vote, had agreed to the army-backed transition plan leading to new elections. Its withdrawal from the process would strip that plan of Islamist legitimacy.
Huge crowds
As darkness fell in Cairo, anti-Morsi demonstrators packed Tahrir Square, the cradle of the movement to unseat him, which holds some 350,000, and spilled out into adjoining streets.
A troupe of folk musicians played darabukka drums and mizmar flutes in a celebratory atmosphere.
There were loud cheers when military jets left trails in the sky that formed the shape of a heart above the square. The military has staged frequent flyovers in the last three days to underscore their authority.
Mohamed Manndouh, a 21-year-old business studies student, reflected the mood among many who backed military intervention. "I came out to protest today because we reject the terror of the Brotherhood," he said near Tahrir Square.
Tens of thousands of men, women and children gathered at a Brotherhood sit-in near the mosque, where some have braved the heat since Wednesday.