Huge crowds rally in Egypt, political talks stalled
CAIRO - Hundreds of thousands of supporters and opponents of ousted Egyptian President Mohamed Morsi gathered in Cairo and Alexandria on Sunday, two days after similar gatherings led to nationwide clashes that claimed more than 30 lives.
The huge rallies, which began to thin out towards midnight, have been largely peaceful, but a military-backed plan to resolve the political crisis remained bogged down by infighting over who should be interim prime minister.
Protesters opposed to Morsi crammed into Cairo's Tahrir Square and at the presidential palace in a festive atmosphere. Unlike Friday there were no running street battles with Morsi's supporters, despite a much bigger turnout.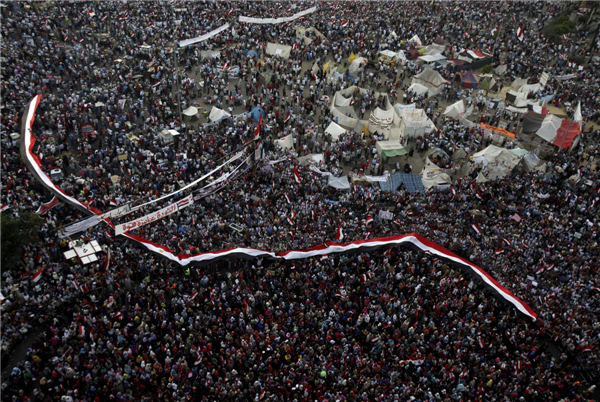 Protesters who are against deposed Egyptian President Mohamed Morsi shout solgans as they hold Egypt flags at Tahrir square in Cairo, July 7, 2013. [Photo/Agencies]
Those who backed Morsi and his Muslim Brotherhood movement concentrated in large numbers outside a mosque in the northeast of the city, and outside the Republican Guard barracks where Morsi was being held and three people were killed on Friday.
"We will not leave until Morsi returns. Otherwise we'll die as martyrs," said 55-year-old Hanim Ahmad Ali Al-Sawi, wearing a veil over her face in the searing sun, as soldiers and policemen looked on from behind barbed wire. She had been there with her five children for the last three days.
Morsi was toppled on Wednesday in a takeover the military denied was a coup. The army said it stepped in to enforce the will of millions of Egyptians who rallied on June 30 demanding his resignation.
But while Morsi's ouster was met with scenes of jubilation, it angered Islamists who held protests on Friday in which some 1,400 people were wounded in addition to those killed.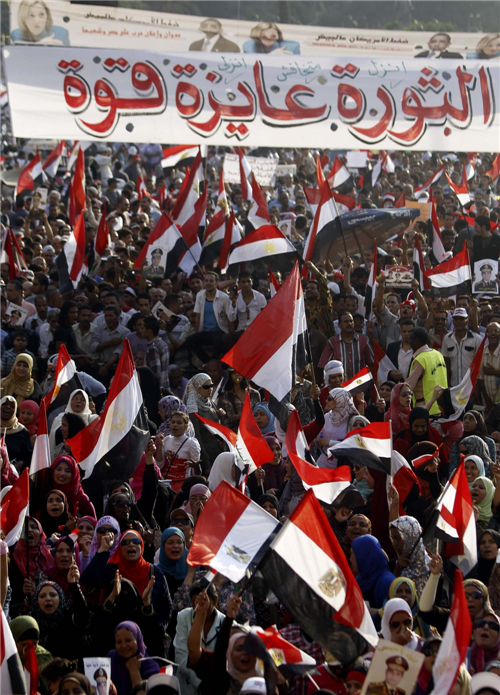 Protesters who are against deposed Egyptian President Mohamed Morsi hold Egypt flags and shout slogans at Tahrir square in Cairo, July 7, 2013. [Photo/Agencies]