Libyans fail to agree on new government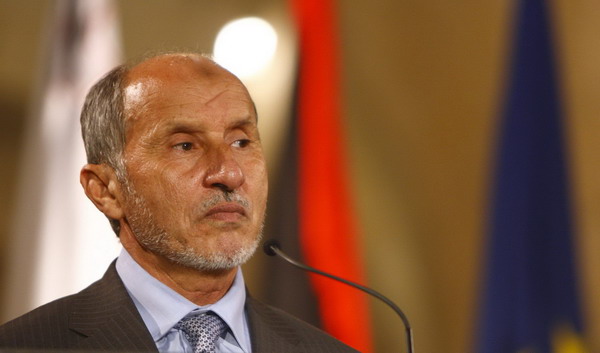 Libyan National Transitional Council (NTC) Chairman Mustafa Abdel Jalil takes part in a joint news conference with Malta's Prime Minister Lawrence Gonzi (not pictured) at the office of the Maltese Prime Minister at Auberge de Castille in Valletta Sept 18, 2011. [Photo/Agencies]
BENGHAZI - Libya's interim leaders failed to agree a new cabinet on Sunday in the latest setback to attempts to normalise the running of a government still bogged down by battles with pro-Muammar Gadhafi forces.  
The cabinet - or executive committee - was dissolved last month after procedural errors in the handling of the unexplained shooting dead of the newly ruling National Transitional Council's (NTC) military chief.
A new executive committee, to include officials responsible for defence and interior affairs, was supposed to be appointed by interim Prime Minister Mahmoud Jibril on Sunday.
But the talks broke down when his proposals did not receive full backing from all current members.
"We had an advisory meeting with the NTC in order to form a new cabinet. We have agreed on a number of portfolios. We still have more portfolios to be discussed," Jibril told reporters through a translator on at a news conference on Sunday.
NTC officials, including the head of the committee for political affairs, Fathi Baja, told Reuters that Jibril proposed a "transitional government" which would rule until at least the official liberation of the country.  
It is not clear what liberation entails but it is likely to be conditional upon the capture of fugitive ousted leader Muammar Gadhafi and the defeat of his loyalists who still hold three key towns in the country.
"The meeting was to form a transitional government. (The NTC) reduced the number of portfolios from 36 in the original proposal to around 24 but no names are confirmed," NTC spokesman, Jalal el-Gallal, told Reuters.
A list of the approved ministries was not available, though sources familiar with the negotiations said that the position of Jibril himself was a sticking point during the talks.
There was also disagreement about whether it is necessary to form a transitional government before the declaration of liberation.
The NTC has drawn up a roadmap, setting out plans for a new constitution and elections over a 20-month period, which should start once that declaration is made.