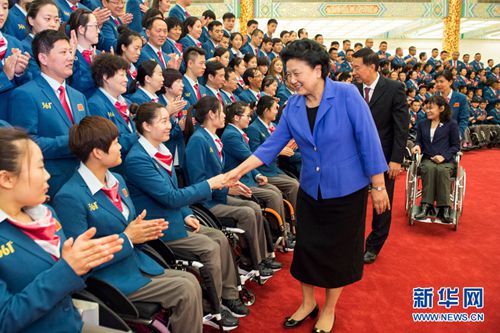 Liu Yandong, central politburo member and Vice Premier of the State Council, and State Councilor Wang Yong, met with the Chinese delegation to the Rio Paralympics on August 29. They gave their regards to the disabled athletes, and encouraged them to do their best.
Liu said that Chinese athletes have ranked No.1 three times in a row in previous Paralympics, and that the athletes should fight for both the glory of China and people with disabilities, make more friends with athletes from different countries and regions, and keep the good reputation of Chinese athletes by staying clean and safe. Liu requires all departments to provide good service and support during the Games.
Wang also hoped that Chinese athletes will perform well.
The 15th Paralympics Games, consisting of 22 big events and 528 smaller ones, will be held in Rio de Janeiro from September 7 to 18. The Chinese delegation has 499 people, including 308 competitors.