Guilin is my favorite city in China because of its beauty, its waterways, its cafes, and most of all because I met my wife there. It is her hometown and we will both retire there in a few years.
Not only is Guilin a fascinating city, there are many interesting places to visit within a short drive from there. The Ling (sometimes called Lingqu) canal is the oldest canal in the world. It was built about 2,200 years ago and connects two major river systems, the Yangtze (to the east) and the Pearl River.
 Longsheng Rice Terraces is another manmade wonder that was built around 650 years ago. I have some photos of both of these places in my China Daily homepage Albums. Gudong Waterfall Park is another attraction that is worth visiting. The hike to the top of all these waterfalls isn't very difficult and if you want, you can take a ride to the bottom on a personal rail car whose speed you can control with a brake.
If you want you can also climb up some of the waterfalls with the help of chains that are placed for the convenience of amateur climbers.
I have only been in Guilin during the winter and spring but my wife tells me it gets pretty hot in the summertime. That's OK because I grew up in the Midwest of the US where it gets very hot and humid during the summer months. It rarely freezes in the winter and the spring and autumn are pleasant. Guilin receives a lot of rain, especially in late spring and early summer. Because of this there is lush plant life and many large trees in the area. Being from California I'm used to having a car to get around. In fact, it's practically a necessity in California.
But in Guilin almost everything is within walking distance and if you need to go further public buses are available every five minutes on the busy streets and every 10-15 minutes just about everywhere else. There are plenty of taxis too and most trips are only six yuan.
It's a perfect place to retire.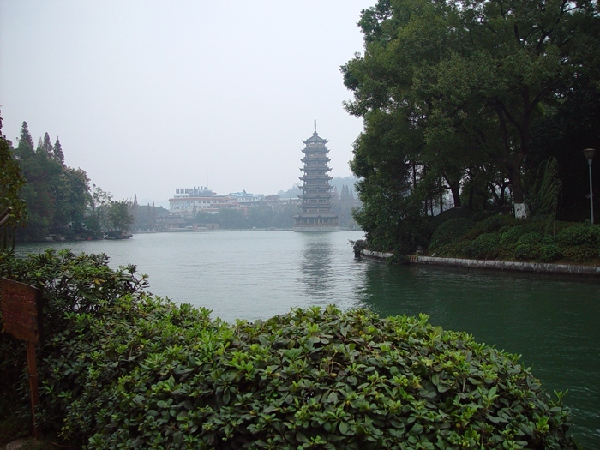 One of the many pagodas in the waterways of Guilin.
No photo spread of Guilin would be complete without a shot of The Elephant Rock.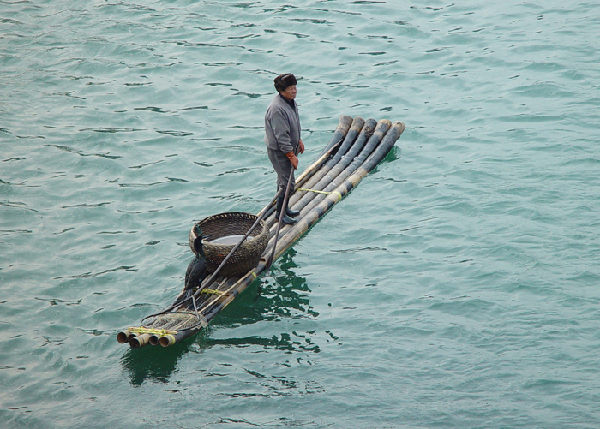 A fisherman and his cormorant on the Lijiang River.