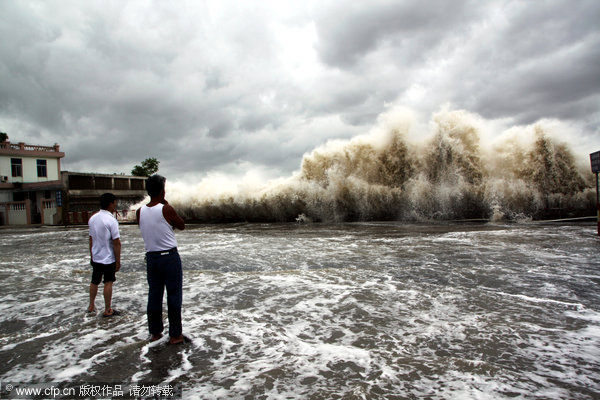 Huge waves splash on a dyke before the landing of super typhoon Usagi in Shantou, South China's Guangdong province on Sept 22, 2013. [Photo/CFP]
BEIJING - China's maritime authorities on Sunday continued to issue red alerts, the highest level of warning for storm tides and waves, as super typhoon Usagi is approaching land.
Usagi, the 19th typhoon to hit China this year, is expected to make landfall in south China's Guangdong Province on Sunday night, the National Marine Environmental Forecasting Center said.
Typhoon Usagi will bring waves as high as nine meters in the north of the South China Sea from Sunday night to Monday morning, with waves of up to six meters in the Taiwan Strait and sea area off eastern Guangdong. Usagi is expected to whip up peaks of 3 to 4.5 meters in Fujian Province's southern coastline and along Guangdong's western coastline.
The forecasting center also warned of storm tides, with water levels  expected to increase by as much as 2 meters from Sunday afternoon to Monday afternoon.
Residents and tourists in affected areas are advised to stay away from beaches and litoral zones.
China has a four-tier, color-coded weather warning system, with red representing the most severe, followed by orange, yellow and blue.