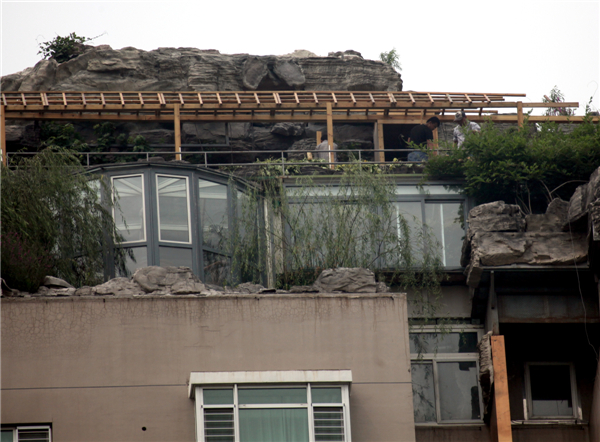 Workers dismantle the illegal garden built atop a 26-story building in Beijing on Aug 15. The man-made mound, dotted with artificial rocks, greenery and a swimming pool, was ordered to be dismantled within 15 days by the urban management bureau of Haidian District of the capital on Monday. [Wang Jing/Asianewsphoto]
The owner of an illegally built "villa" on the rooftop of a 26-storey building in Beijing started to demolish it on Thursday morning.
Zhang Biqing, owner of the rooftop villa in Renji Shanzhuang, a residential compound in Beijing's Haidian district, said that he has hired several workers to tear down the two-storey villa, which covers an area of 800 square meters, Beijing Youth Daily reported.
Zhang, the manager of an acupuncture clinic, started to construct the "villa" six years ago, but many people in the building complained that the villa caused water leaks in their houses. However, Zhang ignored the complaints.
The Haidian district's chengguan (urban management) bureau has urged Zhang to demolish the villa since 2009, but Zhang refused to obey the bureau's requirement.
The photos of the villa were uploaded onto a micro blog this month, which triggered a public outcry.
Related Reading:
Villas on roof of mall waiting in the wings
Govt denies rumor accusing official of owning large villa
Apartment owner told to dismantle roof-top oasis