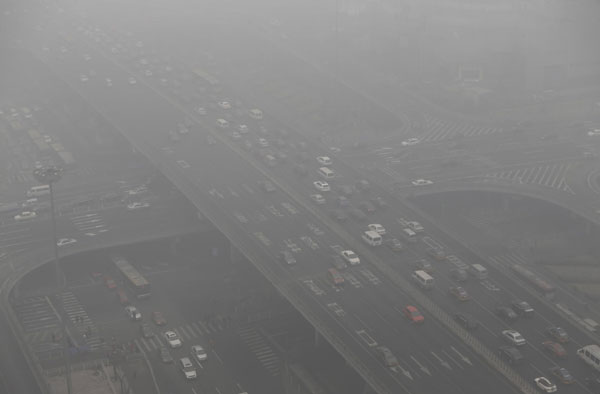 Vehicles drive through the Guomao Bridge on a heavy haze day in Beijing's central business district Jan 29, 2013. Beijing's air pollution returns to 'hazardous' levels, two weeks after record readings of small particles in the air sparked a public outcry. [Photo/Agencies]
Hazy weather continued to dominate most parts of central and eastern China, with visibility as low as less than 200 meters, causing transportation delays.
Snow and rain will sweep across these areas from Wednesday night, which will help to clear the haze and dust that caused severe pollution in many areas, including the Beijing and Tianjin municipalities, and Hebei and Shandong provinces, China's National Meteorological Center said on Tuesday morning.
The hazy weather, the fourth spell to hit central and eastern China since the beginning of the year, caused cancellations or delays of flights in many cities, including Nanjing in Jiangsu province. Some expressways in Anhui and Shandong provinces were also closed.
At least 42 flights were cancelled, including 11 international flights at the Beijing Capital International Airport by 11:30 am on Tuesday.
On Tuesday morning, most parts of Beijing saw "severe pollution", the highest degree of the air pollution scale.