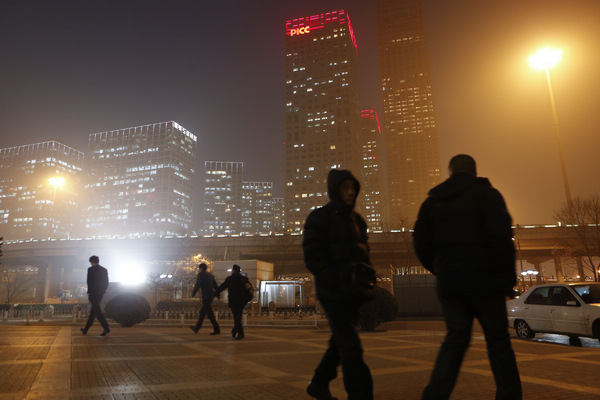 People walk through a heavily hazy winter day in CBD region of Beijing, Jan 11, 2013. The air quality monitor shows that the pollutant level of PM2.5 in Beijing reached 340 to 446, indicating a serious pollution 6. [Kuang Linhua/Asianewsphoto]
BEIJING - Heavy fog enveloped a large swathe of East and Central China Saturday, causing highway closures and flight delays in several provinces.
Beijing was shrouded in dense smog for a second straight day Saturday. The smoggy weather will not clear up until Monday, the city's environment monitoring center said.
Beijing's air is heavily polluted. Readings for PM2.5, or airborne particles with a diameter of 2.5 microns or less -- small enough to deeply penetrate the lungs -- were as high as 456 on Saturday.
The elderly, children and those suffering from respiratory and cardiovascular diseases are advised to stay indoors to reduce exposure to polluted air.
Meanwhile, heavy fog has blanketed several regions in East and Central China, including Hebei, Tianjin, Shandong, Henan, Jiangsu, Anhui, Jiangxi and Hubei provinces.
In Shandong, more than 20 highways were closed, as the fog reduced visibility in some areas to less than 50 meters, the provincial meteorological center said.
A total of 63 flights in and out of Shandong's eastern coastal city of Qingdao had been canceled or delayed by 2 pm Saturday, affecting about 5,000 passengers, according to airport administration authorities in Qingdao.
In Jiangxi, visibility in eight cities was reduced less than 500 meters. The fog forced five highways to close and delayed dozens of flights at an airport in the provincial capital of Nanchang on Saturday morning, according to local meteorological authorities.