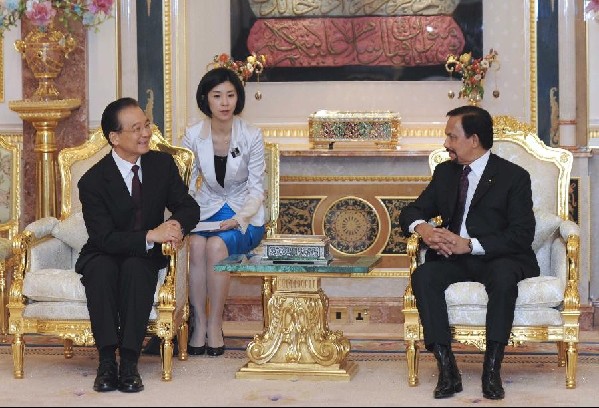 Chinese Premier Wen Jiabao (L) meets with Brunei's Sultan Hassanal Bolkiah in Bandar Seri Begawan, Brunei, Nov. 20, 2011. [Photo/Xinhua]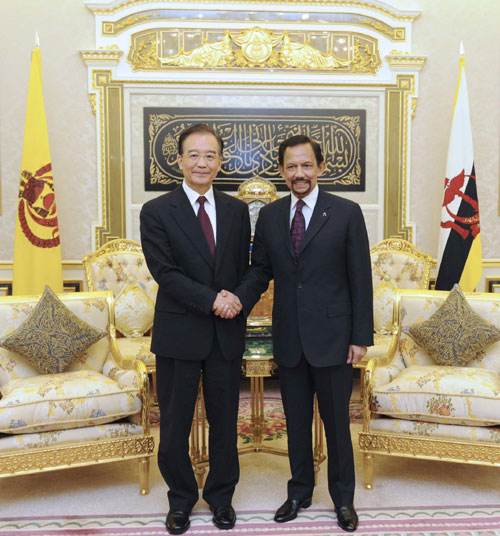 Chinese Premier Wen Jiabao (L) meets with Brunei's Sultan Hassanal Bolkiah in Bandar Seri Begawan, Brunei, Nov. 20, 2011. [Photo/Xinhua]
BANDAR SERI BEGAWAN- Visiting Chinese Premier Wen Jiabao and Bruneian Sultan Hassanal Bolkiah Monday pledged to promote bilateral ties to a new level.
During their talks, Wen said the China-Brunei relationship is an example of harmonious coexistence and common development between big and small countries.
Since China and Brunei established diplomatic ties 20 years ago, the two countries have respected each other, treated each other as equals and had friendly exchanges, injecting impetus to bilateral ties, Wen said.
China and Brunei have also worked to promote regional peace, stability and prosperity, he added.
China is willing to maintain high-level exchanges, enhance communication and coordination on important issues and strengthen political mutual trust to promote bilateral ties, Wen said.
China supports Brunei's efforts to diversify its economy, he said, adding the two parties should enhance cooperation in trade and investment.
China is willing to actively participate in Brunei's infrastructure construction, and expand energy cooperation from oil and gas to both upstream and downstream of the energy industry, said Wen. China is ready to broaden cooperation in agriculture, fisheries, new energy and renewable energy resources, he added.
The premier also said the two sides should take the opportunity of the China-Brunei Friendship Year to promote traditional friendship and enhance exchanges and cooperation in such areas as education, tourism, media and youth.
The sultan said relations between Brunei and China have been greatly improved since the two countries established diplomatic ties 20 years ago and the two sides have carried out fruitful cooperation in various fields.
Brunei highly values its relations with China and steadfastly adheres to the one-China policy, he said.
Brunei is ready to work with China to promote pragmatic cooperation in an all-round manner so as to push bilateral ties to a higher level and benefit the two peoples, he added.
On East Asia cooperation, Wen said that current cooperation has good momentum and it is necessary to stick to the theme of unity, cooperation and development and continue to uphold the leading role of the Association of Southeast Asian Nations (ASEAN).
Wen also stressed the importance of strengthening cooperation between China and ASEAN (10+1) as well as cooperation between ASEAN, China, Japan and South Korea (10+3), and properly handling disputes over maritime rights and interests.
The sultan said the friendly cooperation between China and ASEAN has promoted peaceful development of the region.
During the latest series of meetings for East Asian leaders in Bali of Indonesia, ASEAN members had expressed their wishes to strengthen strategic cooperative partnership with China, he noted, saying Brunei will continue to play a positive role in this regard.
After the meeting, Wen and the sultan attended a signing ceremony for bilateral cooperation documents.