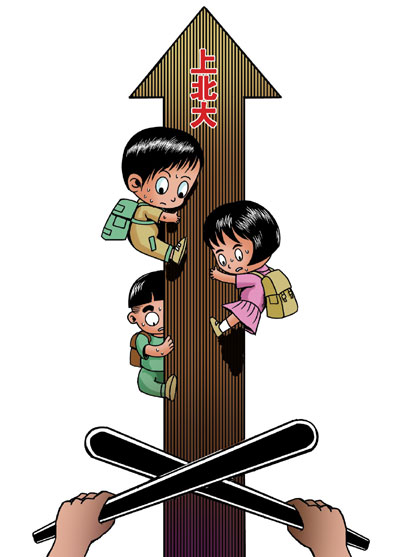 [Liu Lijie/Newscartoon]
"Wolf dad"
Following the roars of a "tiger mom", a "wolf dad" stirred controversy again on "stick parenting."
Xiao Baiyou, a father of four, has three children who have entered Peking University.He recently published a book touting how his "sticks make a great man" philosophy landed his three children into the prestigious university.
Some parents support the approach, saying the "stick parenting" has proved successful as their children get good results in schools. Others disagree. One father said: "Education techniques should vary from child to child. The 'wolf dad' approach or democratic style may not suit all children."
Unsurprisingly, many children hate "sticks". One said "he'd rather live freely and happily than go to a good university under physical punishment."
Education experts consider the approach "pragmatic", saying children entering top university under "stick parenting" may be susceptible to personality disorders. Lawyers warn that the approach may breach domestic violence and child abuse laws.
Kong Qingdong
Kong Qingdong, an outspoken professor at Peking University, became hot topic again for his rudeness when refusing an interview with a magazine. He rejected the journalist with "f*** your mother", which he posted on his micro blogs on Nov 7, 2011.
His behavior triggered a debate about whether a university should keep a teacher who publicly swore. Students from Peking University told media that they have launched a campaign to demand the school fire Kong. In a letter sent to the principal, they listed Kong's violent and crass speeches. They said that Kong's words surpassed the freedom of speech and breached the ethics of a teacher.
Ova black market
Black markets for female ova are being operated by agencies in Beijing, the media has exposed. The illegal market targets girl students from famous universities and offers tens of thousands of yuan for one ovum.
The better the seller's conditions are, for example a higher academic degree, the higher pay she receives.
However, with money comes risk. Medical experts say the ova removal operation may cause complications or even death in the worst case scenario.
Currently, China's laws forbid ovum trading but allow women who have tube babies to donate the reproductive cell. As a result, despite the demand, there is a shortage in supply of ova for infertile women.
Apart from criticizing the sellers focused on money-making, some analysts call for extra legal channels for ovum donation to curb the illegal trade.
School bus accident
A school bus accident that killed 19 children and 2 adults on Nov 16 in northwest China has triggered nationwide safety awareness.
The nine-seat van was carrying 64 people when it collided with a coal truck while traveling to a kindergarten in Qingyang city, Gansu province.
On the same day of the accident, the Ministry of Education urged schools to "immediately inspect the safety conditions of the student buses traveling to and from schools". Following this, a nationwide campaign for school bus safety began.
A discussion of what is considered a 'safe school bus' became popular on micro blogs. Many advocated American-like yellow school buses with specific warning and safety devices. But some questioned the root of the problem: "what if an American school bus is stuffed with many kids?"