Chinese basketball legend Yao Ming revealed that he did not grasp his first mathematics lesson at all in a speech Wednesday in Beijing.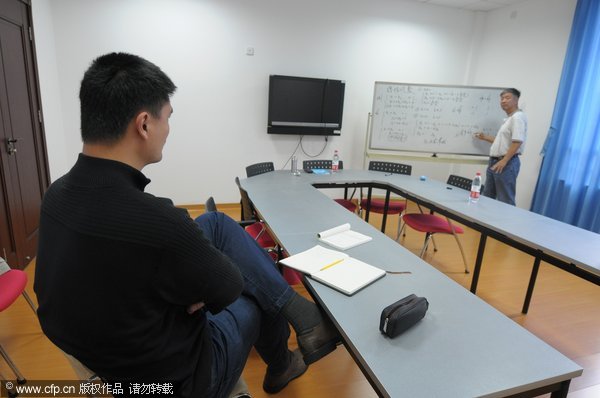 Yao Ming takes a math class at Shanghai Jiaotong University on Nov 7, 2011. [Photo/CFP]
"To be frank, I was totally lost in my first math class. Only a few vague memories of studying it were reawakened," he said. "But I had prepared myself for that situation. I believe one will eventually reap a rich harvest as long as one makes improvement little by little, day by day."
He delivered the speech on "Youth, Education and Future" at SAP TechEd on Wednesday in Beijing.
The former Houston Rockets center officially became a college freshman at Antai Economics and Management College of Shanghai Jiaotong University on Nov 16, four months after his retirement from professional basketball.
"I chosed to return to campus because I realized that in an era of information explosion, people, especially me, don"t know too much," he said.
Taking a retrospective look at his "not so successful career as a player," he summed up three recipes for success: life goal, cooperation and education.
"I thanked Wang Zhizhi and Shaquille O"Neal at my retirement ceremony, for their being my goals in different phases. I once wrote a card to Shaq that read, 'Thanks for your encouragement. You are the one I am looking up to. And my goal is to be as good as you.' I worked hard every day after that and made strides," he said.
Speaking about the importance of teamwork, he recalled an unpleasant occasion at the Athens Olympics in 2004, when he threw a towel and criticized teammates after losing a game to Germany.
"This is a lesson to me. In adverse situations, as the core of a team, you need to stand up and assume responsibility. He is supposed to reflect on himself and work things out with his teammates," he said.
On education, Yao says the environment counts a great deal, as there should be space to allow for mistakes.
"As the old saying goes, 'Failure is the mother of success.' I think it has two meanings. One is, never be afraid of it; the other is, learn from it."
"I made 3,362 shots on 6,408 attempts in my career, which means I missed 3,046 in total. I also had 1,304 turnovers. Those are all part of my career. Without those 4,000 mistakes I would not be who I am today," he said.