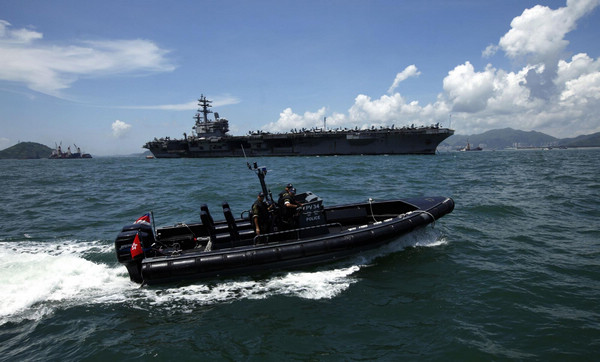 A police boat patrols in front of the aircraft carrier USS Ronald Reagan (CVN76) as it arrives in Hong Kong August 12, 2011. The carrier arrived in Hong Kong for a four-day routine port call. [Photo/Agencies]
HONG KONG - The USS Ronald Reagan Aircraft Carrier and its three support ships arrived in Hong Kong on Friday for a four-day port visit, which is its fourth visit here.
In the press conference held on the Aircraft Carrier, its commanding officer, Capt. Thom Burke said, "We are excited to have this opportunity to visit this fine city of Hong Kong, and we are looking forward to experiencing the culture and continuing to build ties in the community."
According to Burke, while in Hong Kong, sailors and marines will participate in community service projects and experience the local culture through tours. These service projects include opportunities to distribute food and visit the elderly, provide care and encouragement to youth, provide landscaping to facility grounds, and play games with children.
It was introduced that the nuclear-powered supercarrier was deployed back in March to provide support after Japan's massive earthquake. It acted as a refuelling station for the Japanese military and coast guard helicopters flying relief missions in the area.
Following their role in providing humanitarian aid and disaster relief in Japan, the Ronald Reagan then proceeded on to the 5th Fleet area of responsibility where they conducted various operations in support of Operations Enduring Freedom (OEF) and New Dawn.
USS Ronald Reagan is a Nimitz-class nuclear-powered supercarrier in the service of the United States Navy. The ninth ship of her class, she is named in honor of former President Ronald Reagan (from 1981 to 1989). Upon her christening in 2001, she was the first ship to be named for a former president still living at the time.