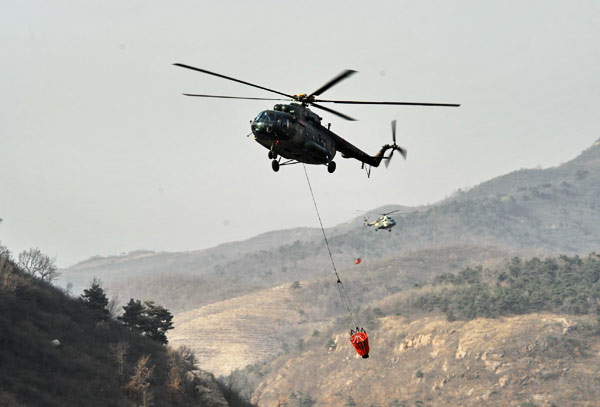 Helicopters tries to take water from a nearby lake to put out forest fires in Qinhuangdao, North China's Hebei province, April 16, 2011. [Photo/Xinhua]
SHIJIAZHUANG - Fire-fighting authorities in North China on Sunday ordered the firing of rainmaking rockets to rain down on a wild fire in a forest that has been burning for five days.
The municipal government of Qinhuangdao, Hebei province, said about 129 rainmaking rockets, loaded with dry ice or silver iodide, were launched from the city's seven cloud-seeding stations early Sunday morning as a drizzle started.
A local weather forecast official said the cloud-seeding has increased the rainfall and the authorities expect the long-awaited rain would help firemen put out the fire.
The fire first broke out in Qinhuangdao's Funing county and Qinglong county Tuesday noon, with over 7,000 mu (466.66 hectares) of forest burnt as of Wednesday noon. Dry and windy weather has hampered the fire-fighting efforts.
Firemen put down the fire in Qinglong and had it under control in Funing before the rainmaking. Thousands of police, soldiers, and firemen have been mobilized. No casualties have been reported.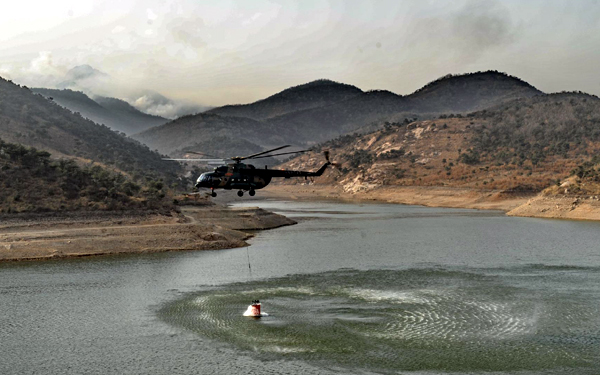 Firefighters use helicopter to take water from a nearby lake to put out forest fires in Qinhuangdao city, North China's Hebei province, April 16, 2011. [Photo/Xinhua]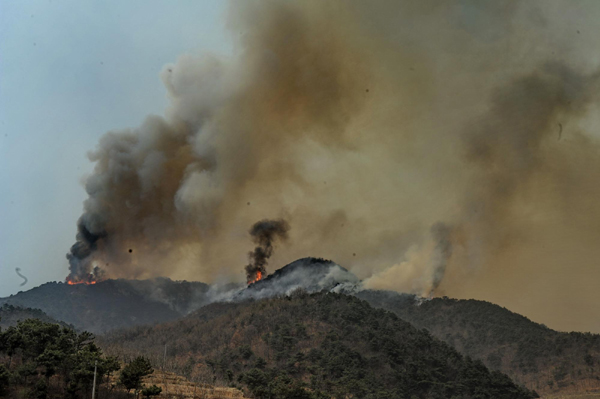 A view of forest fires near Mayigou village in Qinhuangdao city, North China's Hebei province, April 16, 2011. [Photo/Xinhua]